Tomorrow is set to be one of the biggest days in British sport for some time, with the England men's rugby team playing in the final of the Rugby World Cup for the first time for almost 30 years.
We thought we'd ask who plans to watch and how they plan to do it. Here's a quick summary.
A third (33%) of all British people plan to tune in to the game, with a further 10% unsure (and these figures are similar for England only 35% and 9%).
That number rises to 41% of all men. And while there are differences between the intentions of different age groups (both male and female), there's no neat pattern to those variances, with those in the 55+ group most likely to be planning to watch.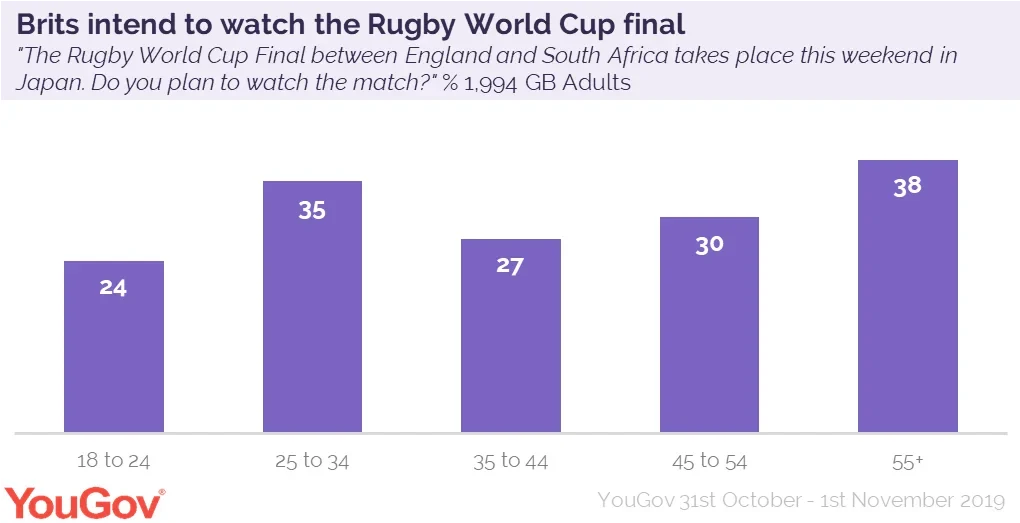 Watching rugby is often associated with having a drink or two, and the early kick-off time (9am in the UK) won't be enough to put some people off. Thirteen percent of all those who plan to watch the game will be accompanying it with an alcoholic drink. But that figure goes up to almost a quarter (23%) for 25-34-year-olds.
Perhaps that's because this age group is among the most likely to be watching the game in a social situation. Sixty percent will be taking in the game with friends or family, at someone else's house or in a pub or bar (see the chart below). 18-24-year-olds are the most likely to find themselves in a pub or bar tomorrow morning (17%). Generally speaking, the older you are, the more likely you are to plan to watch the game at home, on your own.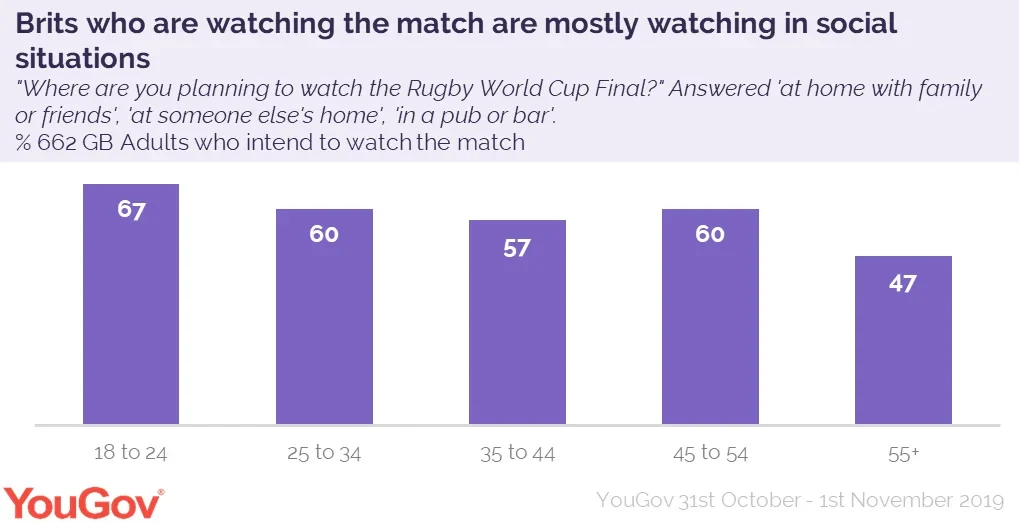 Finally, we asked how getting to the final of a men's Rugby World Cup ranked in recent achievements for England. The results show that for those who have a view, it beats the ICC Cricket World Cup final win, as well as England women's and men's appearances in FIFA World Cup semi-finals. But you'll also notice that the more recent an event was, the more highly it scores. Time may dull the memories of a sporting achievement. It will also tell whether this weekend goes down as one of the greatest in the history of English team sport.