SportsLab's football fans feel that home games for Arsenal (against Everton), Liverpool (hosting QPR) and Manchester United (taking on Wolves) are likely to result in home wins. West Brom are also expected to beat Wigan and fans predict that Martin O'Neill's first game in charge at Sunderland, who host Blackburn, is also probably going to result in a home win. A majority also tip Tottenham to carry on their impressive run by beating Stoke at the Britannia stadium. Newcastle's visit to Norwich leaves SportsLab's fans torn between a draw and an away victory, the latter narrowly coming out on top. Draws are also forecast for Aston Villa's trip to Bolton and Swansea's game against Fulham. Finally, Monday night's battle between big spenders Chelsea and Manchester City is also a close call, with a City victory the narrow favourite among SportsLab's fans.
After being soundly beaten by the pundits last week, can SportsLab's predictions re-assert themselves with a better showing this time around? Check back next week to see how you fared…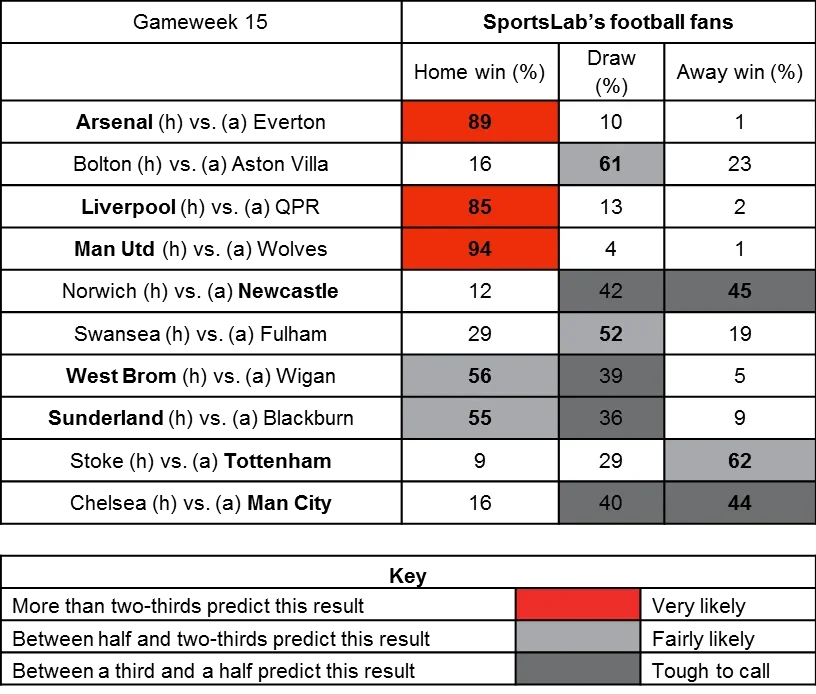 Last week's results – and how our predictions stacked up against them – are shown below. The most surprising results was Stoke's win over Everton, predicted by only 6% of SportsLab's participants. Fulham's win over Liverpool was expected by a mere 9%, while the four 'very likely' predictions (those foreseen by more than two-thirds of SportsLab's football fans) were all correct, with wins for Manchester City, Tottenham, Arsenal and Manchester United.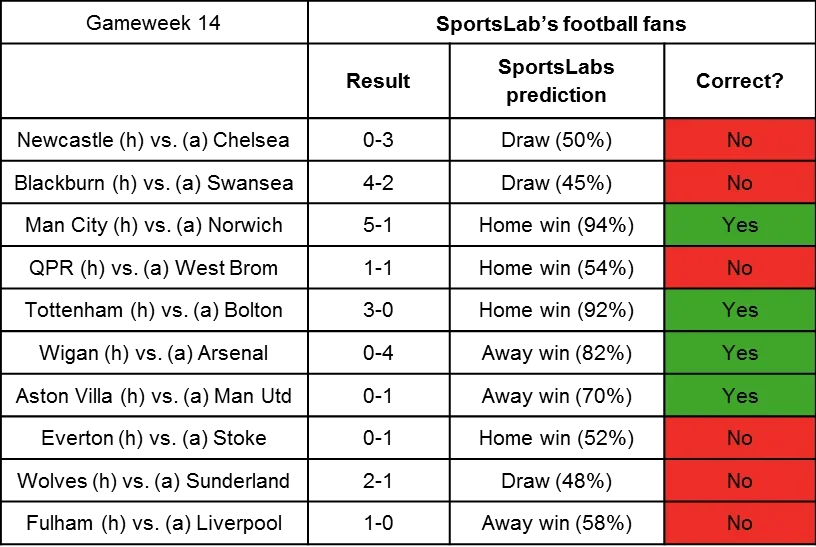 Labs Method statement
YouGovLabs research is anecdotal, with polls being open to all panellists who wish to take part. In contrast to YouGov's Public Opinion polling, YouGovLabs seeks to understand the attitudes of specific subsets of people: sports fans tell us how they feel about sports and music fans tell us how they feel about music, for example. YouGovLabs results are unweighted, and figures reported do not reflect the attitudes of the population as a whole.