Wayne Rooney and 32Red have sparked controversy after the unveiling of Rooney's new Derby County shirt, emblazoned with the gambling brand's name and number.
Branded 'embarrassing' and 'crass' by Richard Caborn, the former government minister who masterminded the 2005 Gambling Act, the move has been described as out of touch at a time when gambling firms have just agreed to stop advertising during live sports.
32Red were clearly trying to appeal to both football fans and gamblers, but how successful was the stunt? YouGov data suggests the company might have scored an own goal.
After the partnership was announced on 6 August, Buzz scores (a net measure of whether consumers have heard anything positive or negative about the brand in the last fortnight) declined from -0.1 to -6.5 at its lowest point. Their score has since improved a little, now standing at -4.6. This suggests that on the whole, the UK recognised that this story was being received negatively, either in the news or among friends and family.
Among football fans, scores fell 11 points to -11.5 before subsequently recovering to -4.3, indicating the negative noise was even louder for this group.
Worse still, Impression scores (which indicate whether someone has a positive or negative impression of a brand) declined much further among football fans than for the UK as a whole. Brits' impression of 32Red fell from -8.6 to -13.9 (a 5.3 point drop), whereas impression of the brand among football fans dropped from -6.8 to -21.8, a staggering 15 point decrease in impression among a key audience.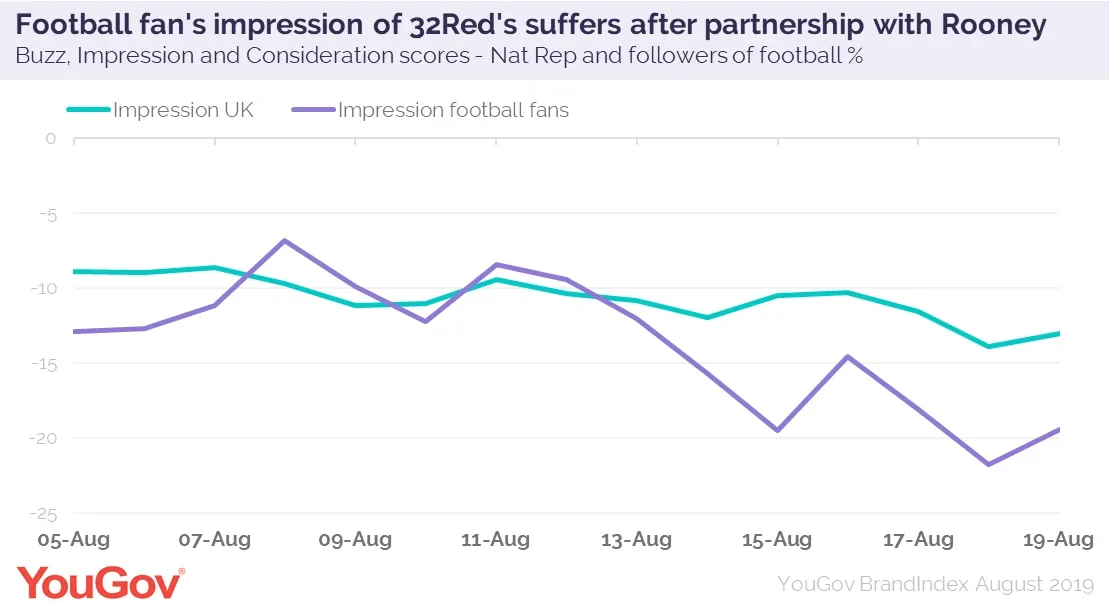 But does it matter? This PR stunt may not have been a hit with football fans or the general public but it doesn't seem to have hampered either group's appetite for the brand. Consideration scores (whether someone would consider purchasing from the brand in future) for both groups remained steady for the entire period implying that while the bad press cut through and people's own opinions of 32Red declined, their likelihood of using the brand is not diminished.
This article previously appeared in City A.M.