Premier League champions Manchester City have signed a long-term shirt sponsorship deal with German sportswear brand Puma, ending a 7-year agreement with Nike. The move will put a different logo on players' chests but also affect loyal fans.
Media reports suggest the deal could be worth up to £65m a year over 10 years. Puma chief executive Bjorn Gulden said it was the biggest contract his firm had ever done, potentially making it one of the most valuable football merchandising deals ever negotiated.
Five years ago Arsenal also announced a move from Nike to Puma, so sporting teams are gradually making the switch - but which of these two giants of the sportswear industry do British consumers prefer?
Data from YouGov's BrandIndex shows that despite deals with Manchester City and Arsenal, when it comes to consumers, Nike is in pole position. The two brand's Impression scores (whether someone has a positive or negative impression of a brand) are roughly 25 points apart, leaving little room for comparison.
Among Manchester City fans, Puma's Impression score dropped from +23.8 in the beginning of 2019 to just +17.5 in March, while Nike's rose to +34.6 from +30.6 – almost 10 points higher.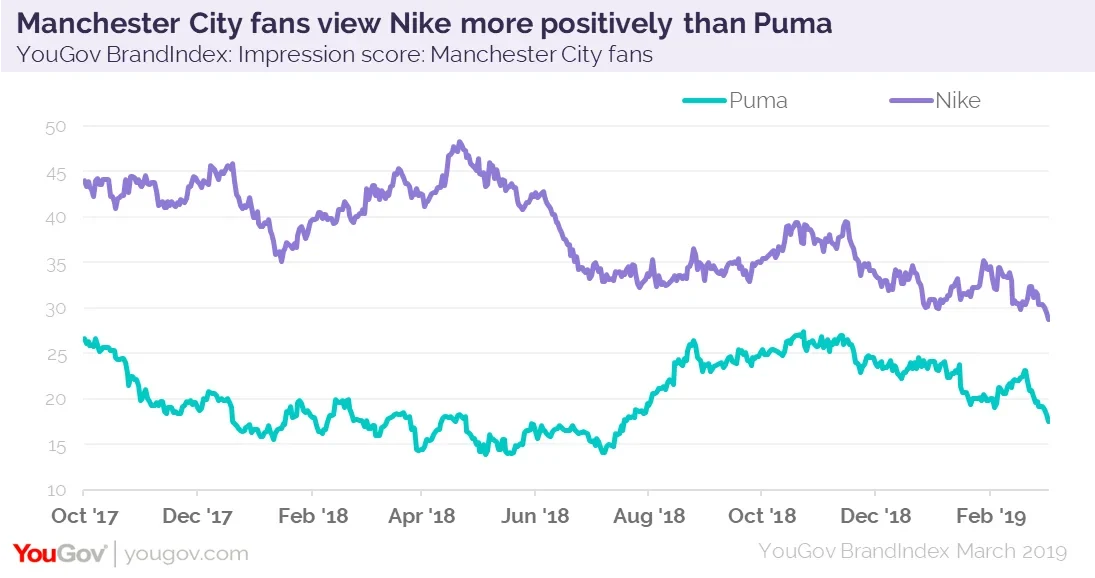 This shows that Puma has made a savvy choice to invest its money where it can make the largest difference, hitching their wagon to the huge successful club - YouGov Ratings data places Manchester City Football Club as the seventh most popular sports team in the world. It could also bring international benefits due to the four other clubs that the umbrella company City Football Group (CFG) owns.
Choosing the most dominant brand in the Premiership as a vehicle to change consumer perception is a bold move that should be applauded, but comes with significant financial risk.
Data gathered using YouGov BrandIndex data.
Image: Getty
This article previously appeared in City A.M.