Younger women are particularly keen to have some leg-based storage
Following reported claims from a pyjama manufacturer that they don't provide pockets because market research showed that women didn't want them, YouGov teamed up with Invisible Women author Caroline Criado-Perez to put this claim to the test.
The results show that, while women are divided, only a quarter are actively anti-pocket when it comes to their pyjamas. The market for pyjamas with functional pockets is bigger, with 33% saying they prefer their PJs to have pockets, while a further 30% don't mind one way or the other.
But there is a key generational difference: the younger a woman is, the more likely she is to be pro-pocket. Among the youngest women – those aged 18-29 – nightwear with pockets is preferred to no pockets by 51% to 15%.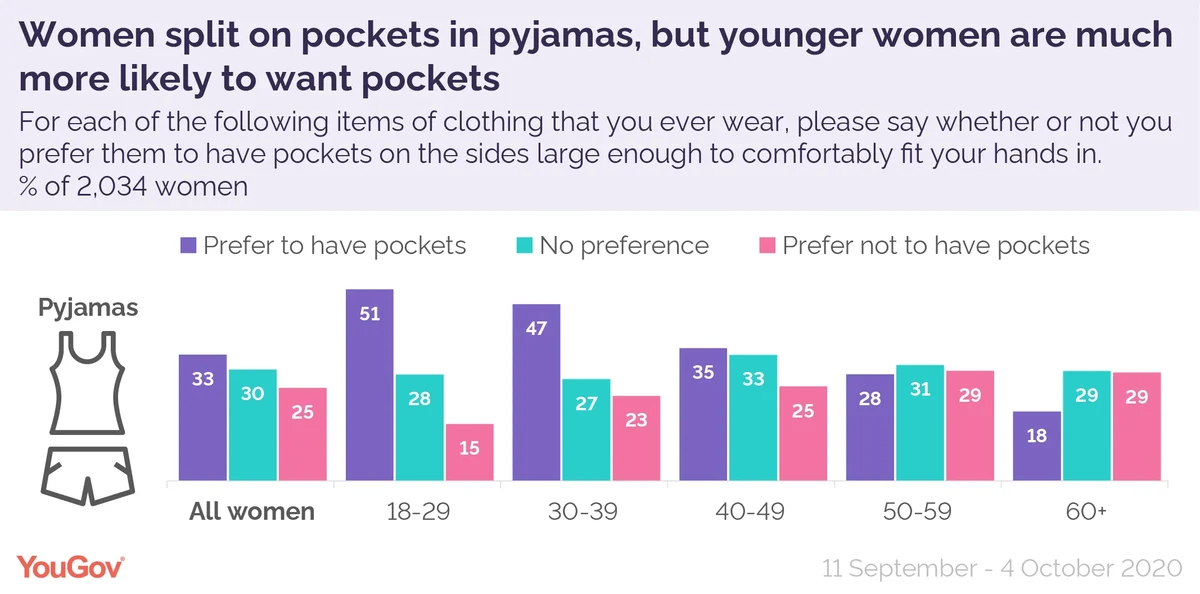 We also took the opportunity to look at attitudes to other items of clothing. When it comes to dresses and skirts, the story is similar: split, but with women more likely to prefer pockets than not, and with younger women much more pro-pocket.
When it comes to trousers, however, women couldn't be clearer: they want pockets. Fully eight in ten say that given the choice between having pockets large enough to comfortable fit their hands in versus no pockets at all, they prefer the former option. Just 8% prefer to forego the storage space, while 10% have no preference.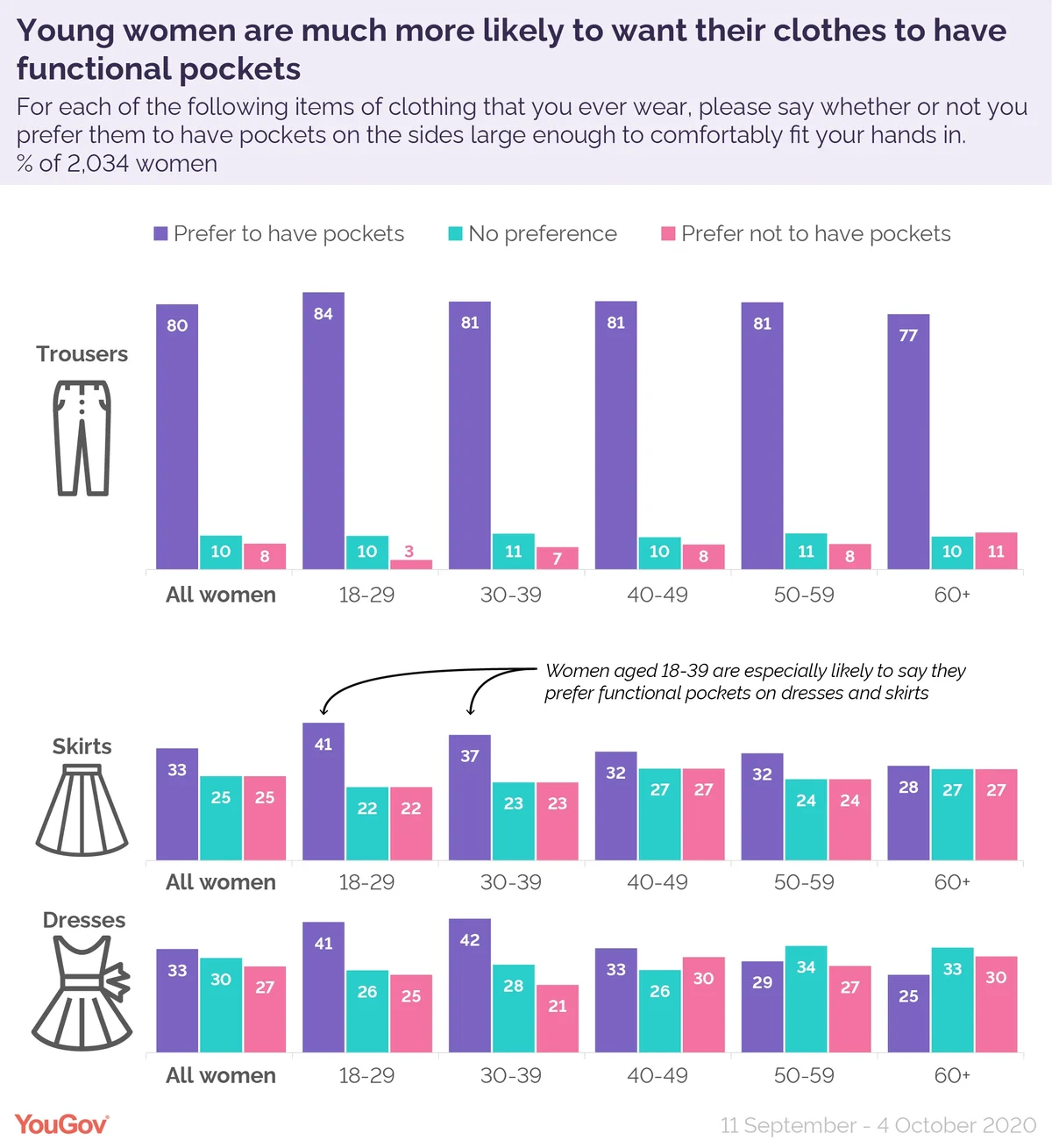 While women still buy clothes against their pocket preference, companies are more likely to have lost sales because they failed to include pockets than because they added them when they were not wanted
Despite these preferences, women can still be held to ransom by the whims of clothing companies and their claims that women don't want pockets – and this is reflected in their purchasing attitudes.
For example, while 33% of women prefer a dress with pockets, only 4% say they would only buy a dress if it had pockets. A similar 6% would only buy a skirt if it had pockets, despite 33% saying they prefer them to have pockets.
Women are more committed to getting functional pockets on their trousers, with 38% saying they would only buy a pair of pantaloons with pockets they could fit their hands in. This is, nevertheless, half the number who say they prefer trousers with pockets (81%).
While women do have to adapt to a market that can often ignore their desires, the data shows that companies are nevertheless losing sales because of their reluctance to provide enough storage space on their clothes. Almost four in ten women (38%) say they have found themselves admiring an item of clothing only to put it back on the rack once they realised it had no pockets.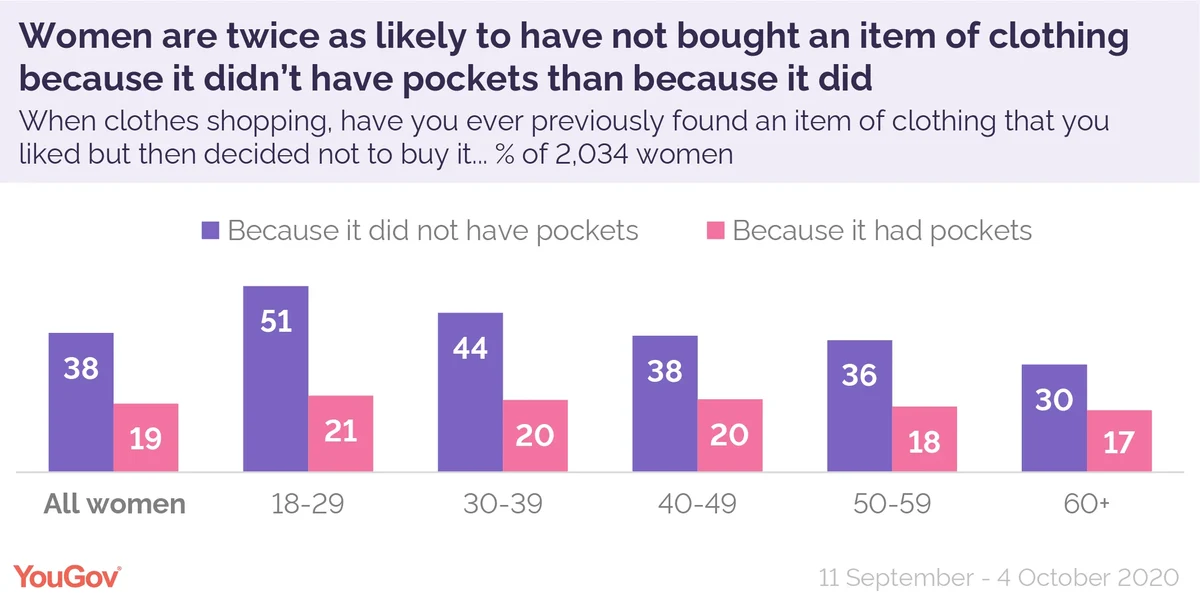 This is twice the rate who say they have done the reverse – putting an item back because of the presence of pockets – and among 18-29 year old women the ratio is higher still, with 51% saying they've been put off a pocketless potential purchase vs only 21% who couldn't abide the presence of pockets.
With the results consistently indicating that the market could become more pro-pocket as time goes by, clothing manufacturers could be finding themselves out of pocket if they refuse to adapt.