As part of our series of articles on "unusual" hobbies, YouGov Omnibus's targeted research team explores the 1% of the UK population who say that they communicate with ghosts or take part in paranormal investigations.
Our research finds that more than half (57%) of those who communicate with spirits or take part in paranormal investigations have been doing so for over ten years.
Many say they first got into it as a child after having a supernatural experience such as sensing a paranormal presence or seeing a ghost. Others say they followed in the footsteps of a psychic family member. More than a fifth (22%) say they talk to spirits or take part in paranormal investigations every day.
Unlike home-brewing and beekeeping, where the vast majority of participants we surveyed are over 55, those respondents surveyed who engage in paranormal investigations or communicate with ghosts cover a wide range of ages. While two in five (41%) are 55+, a quarter (24%) are 45-54 and a fifth (21%) are 35-44.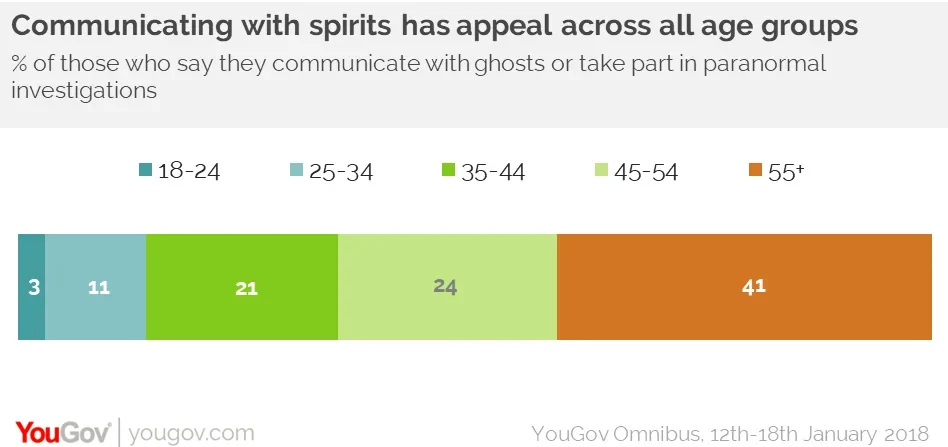 Approaching half of those surveyed (47%) say the pastime makes them happy and a third (32%) say it fulfils them. However, over half (58%) believe their hobby is unusual and 16% feel misunderstood and when asked how friends and family perceive the hobby, many responses included the words "weird", "unscientific", and "nonsense". A few said their acquaintances would describe it as "scary".
The majority (64%) of people surveyed who communicate with ghosts or engage in paranormal investigations say their partner does not get involved with it. But many of those surveyed (59%) have made like-minded friends who are interested in their pastime. Most (79%) do not make money from this activity, saying their favourite thing about it is helping others.
They also enjoying feeling like they are communicating with loved ones who have died, and feeling reassured that there is life after death. One respondent said they did not like the use of the word "ghosts" but prefer to describe it as being in touch with the spirit world.
To find out how you can learn more about specific groups across the UK, get in touch with our targeted research Omnibus team