YouGov Omnibus's targeted research team recently asked people across the UK if they had any interesting hobbies and 1% of the population told us they keep bees. Three quarters (72%) of beekeepers surveyed believe that this pastime is unusual.
Beekeeping is not a hobby that can entered into lightly. While bees may seem like a low-maintenance animals, they still require dedicated care. Two thirds (67%) of beekeepers surveyed say they tend to their bees at least once a week.
The pastime can be lucrative, with 41% saying they have been paid/ remunerated for this, presumably from selling honey. They also don't spend very much on the pursuit; one in ten (10%) spend nothing and almost two thirds (65%) spend £30 or less per month.
It is also a sociable leisure activity, with the majority (61%) saying it has led them to make new friends. More than half (54%) of beekeepers surveyed who are in a relationship say their partner participates too, and almost three quarters (72%) are members of a beekeeping club or society.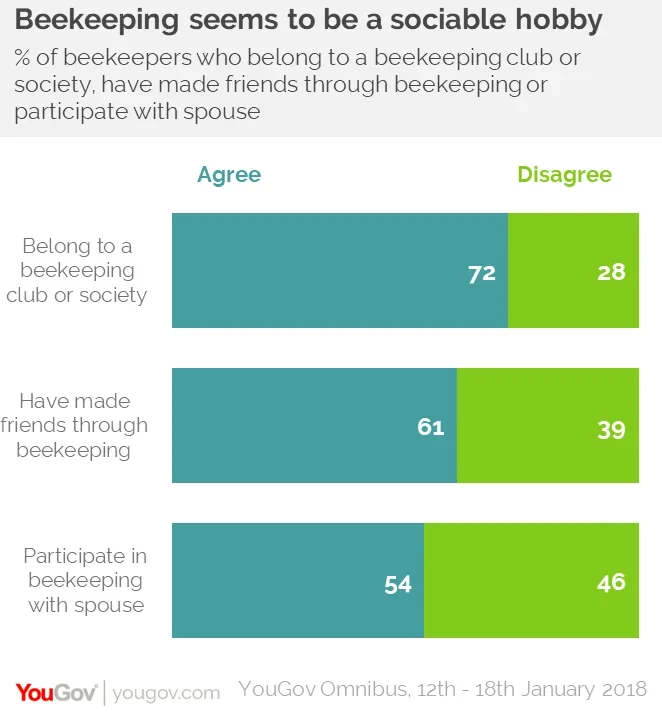 Why beekeeping?
Many beekeepers were introduced to the hobby by family and friends or initially took a course in it. Some people said they were simply interested in bees, while others took up beekeeping after moving to the countryside and having extra space at their disposal.
Many beekeepers' favourite thing about their hobby is the resulting honey, but others enjoy being involved in nature and studying how bees work. Helping the environment is also seen as a major plus point.
Beekeepers' friends and family appear to be supportive of the pastime with many saying that their acquaintances would describe it as "interesting" or "fascinating".
To find out how you can learn more about specific groups across the UK, get in touch with our targeted research Omnibus team