Arsenal are now British football fans' pick for the Premier League title – as Chelsea crash from 42% expecting them to win in our pre-season prediction poll to just 1%
It has been a season of unprecedented shocks in the Premier League. Last year's champions Chelsea yielded to their worst start in Premier League history, culminating in the sacking of Jose Mourinho last month. Leicester City, who only narrowly avoided relegation last season, have led the league for large parts of the season, and Aston Villa, one of only 7 clubs to remain in the Premier league since its inception, have made the worst start to a Premier League season since Derby in the 2007-08 season.
New YouGov research reveals a huge contrast between football fans' predictions at the beginning of the season to their predictions at the mid-season point.
Arsenal are now favourites to win the Premier League (47% predict they will win), having been second favourites at the start of the season on 21%. Man. City (23%) are now second favourites, up from 7% at the start of the season. Chelsea, who topped our prediction poll at the start of the season with 42%, now lie on just 1%, although 15% still think they will finish in the top four.
Meanwhile Leicester City have confounded all expectations. At the start of the season 24% of football fans predicted they would be relegated, now 7% believe they will win the title and 49% think they will finish in the top four.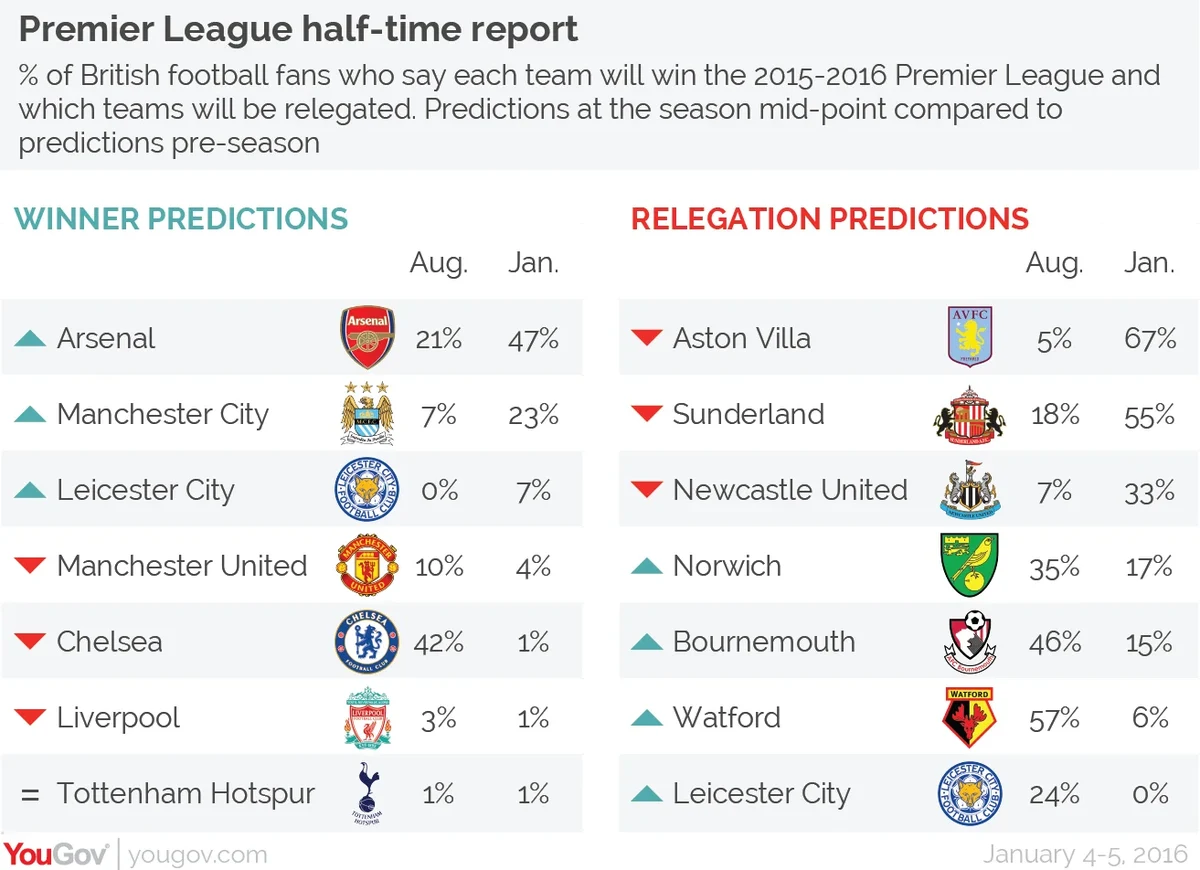 Relegation predictions also vary considerably from the start of the season. At the beginning of the season, the three newly promoted teams – Watford (57%), Bournemouth (46%) and Norwich (35%) – were the fans' pick for relegation. Mid-way through the season it is established Premier League clubs Aston Villa (67%), Sunderland (55%) and Newcastle (33%) that are favourites for the drop.
Leicester's Jamie Vardy, who broke the record for scoring in consecutive Premier League games earlier in the season, is football fan's pick to finish as the league's top scorer, with 30% backing him to win the Golden Boot.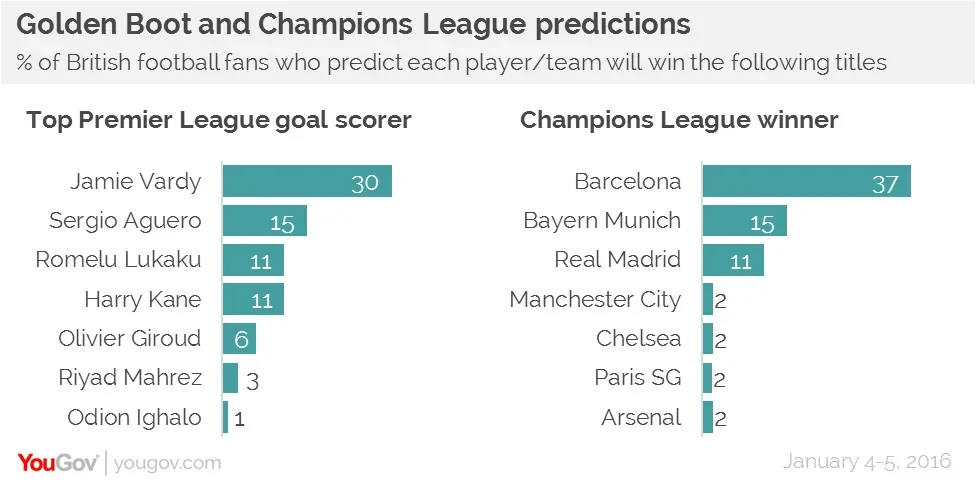 Barcelona are the favourites to win this season's Champions League, backed by 37% of football fans, followed by Bayern Munich (15%) and Real Madrid (11%).
PA image