Most people correctly identified what stage of the World Cup the England women's football team has got to – and it's not far behind Wimbledon in terms of interest
Interest in this year's Fifa Women's World Cup has already exceeded that of 2011, despite only having reached the semi-finals, and both competitions have eclipsed the 2007 competition in terms of attention. Britain is said to be behind the curve on coverage of the event, but unlike previous years some England games will be shown on prime-time BBC and web coverage has been far more noticeable than in the past.
England has made it to the semi-final against Japan, which kicks off tonight, joining the '1996 and 1990 club' – referring to the other two times an England football team has got this far in a World Cup.
The news, perhaps unlike other years, has made it into the public consciousness. 71% of British people know the World Cup is happening (compared to 88% for Wimbledon) and 58% correctly say the England team has made it into the semi-finals (15% think they're at another stage in the competition and 27% don't know).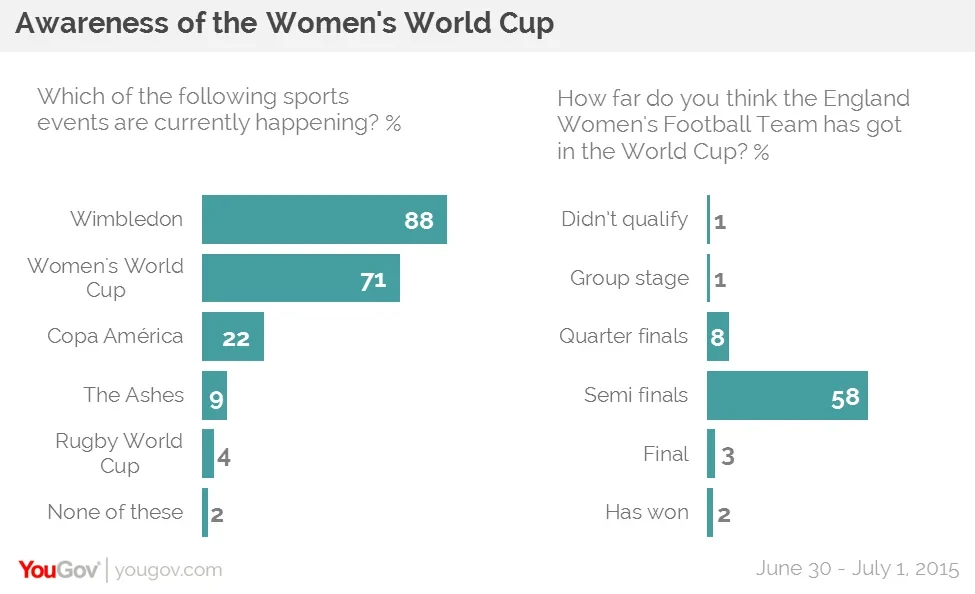 Interest in the World Cup is not as low as you might imagine. 30% say they are at least fairly interested in the event, compared to 46% for Wimbledon. Men (38%) are actually more interested in the event than women (24%).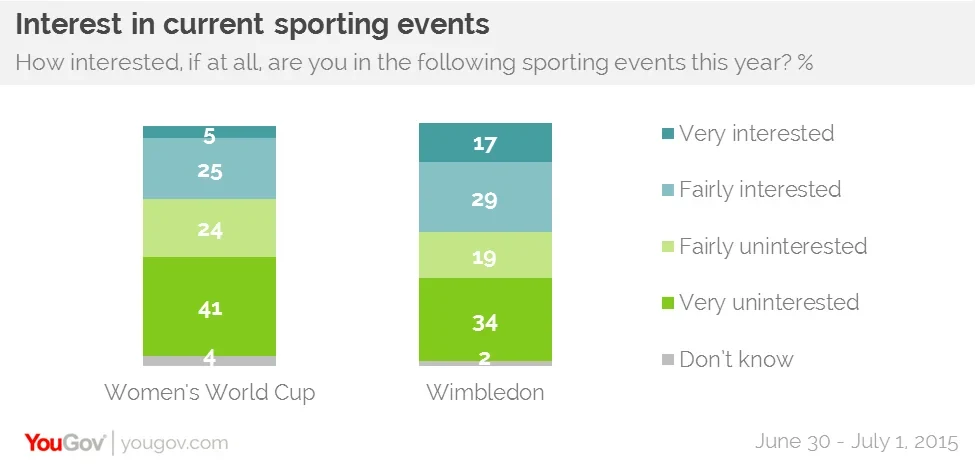 Criticism
The loudest objection to women's football is that the quality of play is lower, however only 21% of the public cite this as a reason for it receiving less attention than men's football. Most people (52%) say it's because the media doesn't give it enough attention, and another popular response is that men's football has greater tradition (38%).
A billion people are expected to watch the Women's World Cup on TV over the course of the competition, and 2.8m French fans tuned in to watch France beat South Korea in the group stages. The winner of tonight's match will play the US in the final on 5 July.