A survey conducted in late March found the former England batsman with equal numbers of supporters and detractors
Cricketer Kevin Pietersen scored a career-best triple century for Surrey on Monday, but today it became clear that he would not be recalled by England. The 34-year-old batsman was told last year that his career with England was over, but he had expressed an interest in returning to international cricket.
In a YouGov poll conducted in March, cricket fans were divided about Pietersen's return. 43% said he should be included in the England cricket team for the first Test match against Australia this July – the same percentage who said he should not be included (43%).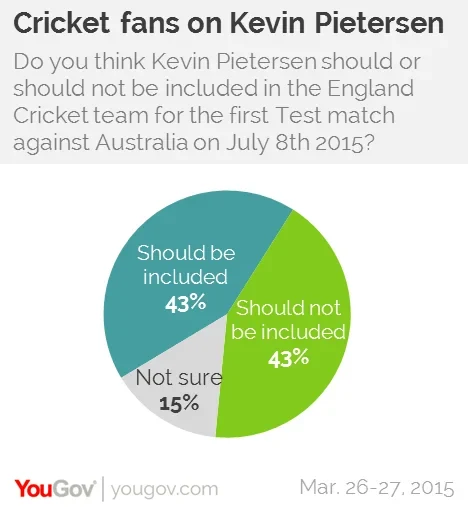 The survey of 429 British cricket fans was conducted from 26-27 March, before the batsman's stunning Surrey performance.
However, there are other signs that fans were not enthusiastic about recalling Pietersen.
If forced to choose between him and the current England captain, Alastair Cook, fans prefer Cook by 44% to 34%. This is despite conflicted feelings fans have already had about Cook, revealed in a YouGov poll conducted last July.
Only 14% believed Pietersen to be the best Test match batsman available to England, half the number who picked 24-year-old Joe Root.
15% chose Ian Bell. Alastair Cook (6%), Jonathan Trott (6%) and Moeen Ali (6%) came lower on the list.
PA image