Following the shooting down of a passenger jet there has been a significant shift in the views of the British public about Russia and Ukraine
The prime minister has called the downing of a Malaysian Airlines flight MH17 over the Russia-Ukraine border a "defining moment" for Russia, and has warned of "hard-hitting" sanctions unless Moscow changes course on Ukraine. US officials have made the case that the plane was shot down by a missile fired from territory held by pro-Russian separatists, using sophisticated weaponry that was transferred to the separatists from Russia.
Nearly 300 passengers were killed in the crash, including 193 from the Netherlands, marking the first time the months-old crisis in Ukraine has spilled over to directly impact countries outside the region. A new YouGov poll suggests a significant shift in how British people view the situation. A solid majority (63%) now see the situation between Ukraine and Russia as something that "should concern Britain and the West", up from 46% in mid-March. The number who say it's only a matter between Ukraine and Russia has fallen from 42% to just 24%.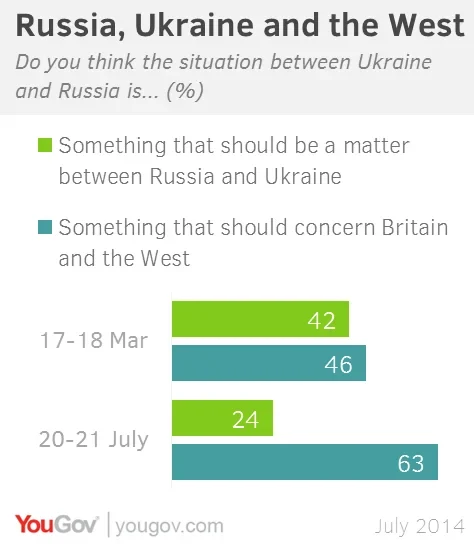 The plane crash also seems to have caught the attention of the public in a way the crisis has failed to do in the past. Immediately following the referendum which Russia would use as a pretext for annexing Crimea, a YouGov poll only 58% were following the news "closely". 73% are following the news that a passenger jet has been shot down over Ukraine.
Following the tragedy, large groups want a tougher response towards Russia by the British (42%), US (39%) and German (46%) governments, but a harder line is especially desired when it comes to the EU countries acting together (54%). Support for several specific actions against Russia in response to the situation in Ukraine have also increased since late March, when YouGov last researched the subject.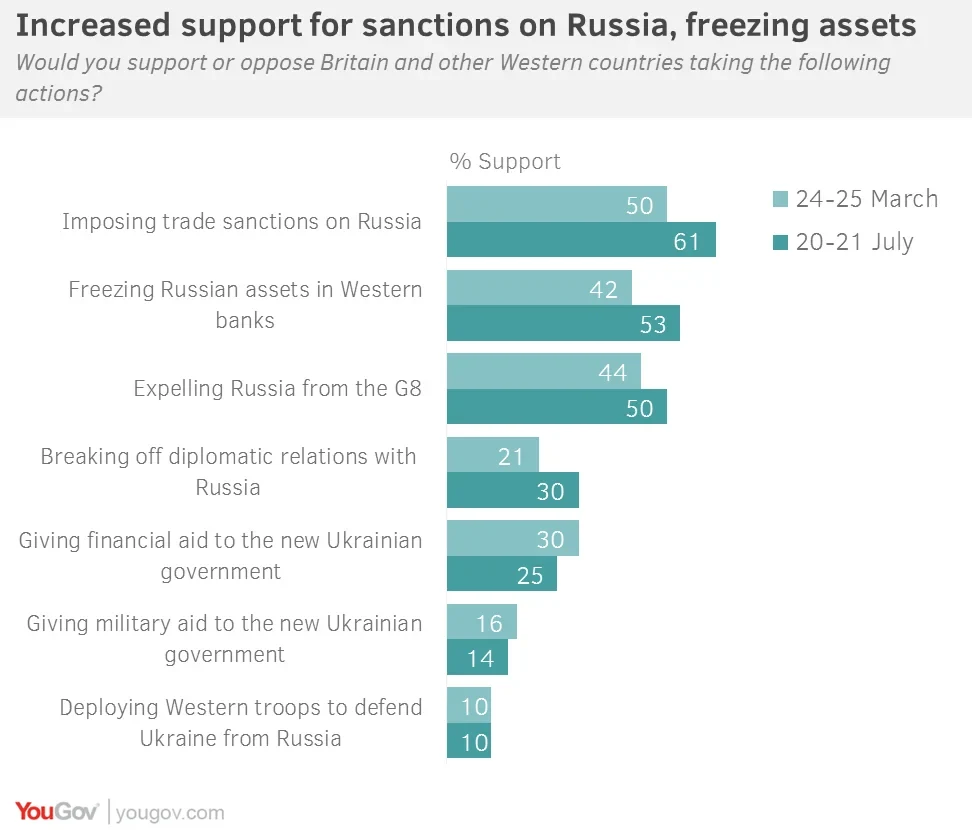 Six in ten now support imposing trade sanctions against Russia, up from 50% in March, and 53% support freezing Russian assets in Western banks, up from 42%. Support has not increased significantly when it comes to providing support to the Ukrainian government – whether that means financial or military aid or deploying Western troops – which was deeply unpopular in March and remains so.
The survey also showed support for suspending passenger and commercial airline flights to Russia, with 46% in favour and 27% opposed.
Freezing the assets against some of Vladimir Putin's allies who use Western banks was among the new actions Mr Cameron has said the West should consider if Moscow does not cooperate with investigations into the crash.
Image: Getty