Aldi and Lidl enter YouGov's mid-year list of the UK's top ten brands
YouGov BrandIndex's 2014 mid-year Buzz rankings reveal that budget supermarkets Aldi and Lidl are the big winners. Aldi tops the list as both enter the top ten for the first time, mirroring the shockwaves they have sent through the sector.
Aldi is in first and Lidl in fourth place on YouGov's rankings. With a clear focus on quality at affordable prices, the two brands are expanding their consumer base and are now attracting those who would never have thought to shop there before.
The public's quest for getting the best deal possible is also shown by the arrival of MoneySavingExpert.com into the top ten. The continued rise of the site suggests that consumers are valuing brands that will help save them money while the cost of living remains squeezed.
The supermarket sector is also well represented in the top ten, with Waitrose reflecting the strong year it has had by moving up to fifth from ninth compared to this point last year. Sainsbury's shows resilience after a challenging time, remaining in tenth position.
Since the last mid-year rankings, Samsung has slipped from second to ninth and its Buzz score has decreased to +11.5 points. However, its continued presence in the top ten indicates it that consumers are still largely hearing positive things about the brand. The BBC's website and the corporation's iPlayer both retain their places in the list, indicating how the viewers have retained a degree of trust and positivity towards the brand.
Sarah Murphy, BrandIndex Director at YouGov, says: 'The budget grocery stores are making deep inroads into the supermarket sector and are also shaking up the retail landscape too, with Aldi coming in ahead of established brands such as John Lewis. Consumers want to do their weekly shops affordably while losing nothing in terms of quality and they believe these German brands do this. The other supermarkets in the top ten may need to react and adapt to the challenge in order to maintain their place in the hearts and minds of consumers.
'The continuing presence of BBC.co.uk, Dyson and Samsung in the top ten is positive news for these brands. They are consistently strong performers in the eyes of consumers and will be looking to build on this strong showing in the next twelve months. '
The full Buzz rankings are below: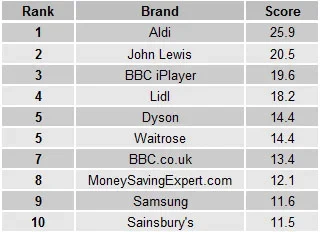 In terms of the most improved brands, Findus tops the list, suggesting that it is recovering from the horse-meat scandal of last year. While the overall Buzz score remains negative (-0.3) and has a way to go before it regains consumers' full confidence, it can take solace in the knowledge that the process has begun. Aldi and Lidl perform well again in this list, finding themselves in second and fourth place respectively, mirroring their strong performance in the Buzz overall list.
The full improvers' rankings are below: