In the Israeli-Palestinian conflict, 47% of British people expect worse violence over the next few years and 31% expect more of the same
This morning the Israeli government looked ready to accept a ceasefire proposed by Egypt, raising hopes that the recent spate of cross-border violence may be coming to an end. However, the armed wing of Hamas has rejected the proposed ceasefire, calling it a "surrender". So far Israel's latest offensive has killed 192 and injured 1,400 in the Gaza Strip, according to the Palestinian health ministry. Israel says over 1,000 rockets have been fired from Gaza, though there have not yet been any injuries on the Israeli side.
The week of fighting marked an end to a 2012 ceasefire brokered by deposed Egyptian president Mohammed Morsi following another Israeli bombing offensive, which itself followed ground incursions into the Gaza strip in 2006 and 2008.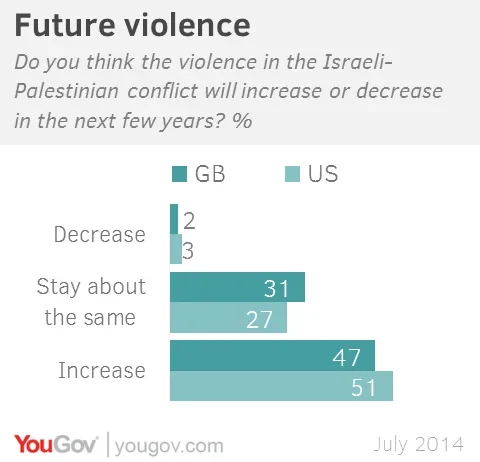 The cycle of violence appears to have made observers in the West highly pessimistic about the chances for peace in the region. In fact, 47% of British people expect the violence in the Israeli-Palestinian conflict to only increase over the next few years, while only a tiny 2% expect it to decrease and 31% predict a continuation of the destructive status quo.
A recent YouGov survey of Americans revealed a similar pattern of low expectations.
Sympathies
For more than a decade YouGov has tracked public opinion in Britain regarding the conflict. What the data suggests is that sympathies do sometimes shift following events like the 2006 Lebanon War or the 2010 raiding of a Gaza flotilla by the IDF.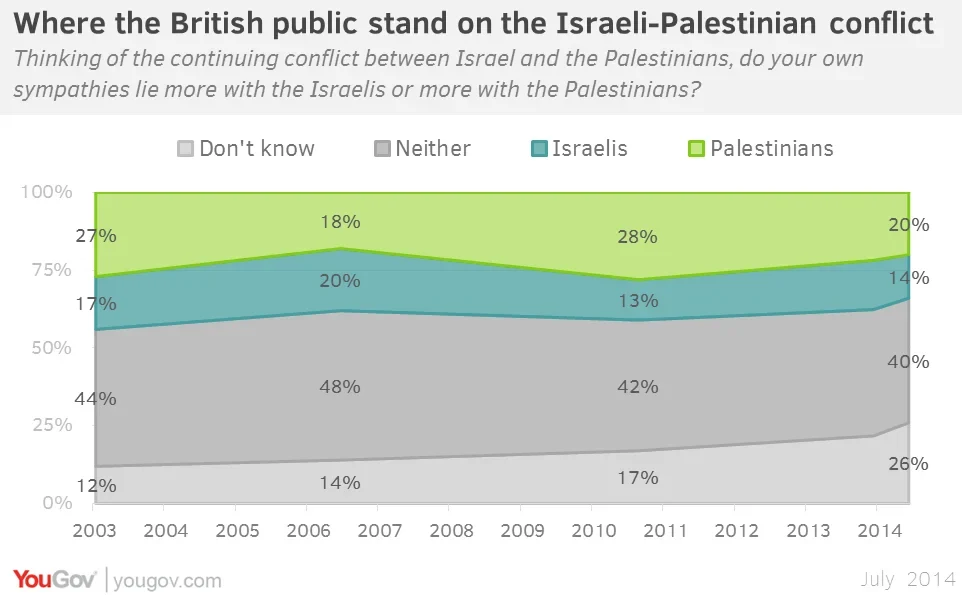 However, if there is any trend over this period, it is that of a growing number of people who don't pick a side. Today two-thirds either don't know where they stand (26%) or say they sympathise with neither the Palestinians nor the Israelis (40%), the highest combined number yet.
Among those who do pick a side, the Palestinians retain a slight edge (20-14%), although sympathy for the Palestinians has fallen by 8% since 2010.
Image: Getty