The most popular score predictions for the World Cup final are Germany 2, Argentina 1 - though 42% are supporting neither team
Over one billion will likely be watching around the world as Germany and Argentina meet for the 2014 Fifa World Cup final. Germany is seeking their fourth World Cup and their first since 1990, when they defeated Argentina in the final. Argentina, who have won the tournament twice, defeated West Germany in the 1986 final and have not won since.
Asked what the score will be at the end of any extra time (and excluding penalties), the British public give a one goal edge to the German team. Around half of respondents with an opinion on the match predict Germany will score two goals, while around half predict Argentina will score only one. Following Germany's 7-1 rout against Brazil in the semi-finals, one in ten predict Germany will score four goals or more in the final.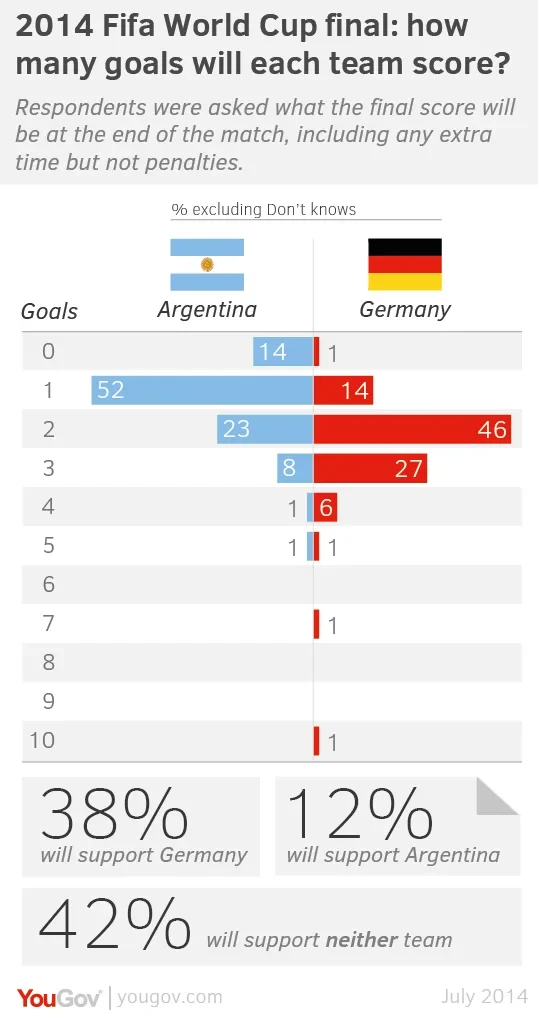 According to another YouGov poll, conducted for the Sunday Times, many more British fans will be supporting Germany (38%) than their South American rivals (12%), though the largest group (42%) will be rooting for neither. If Germany do triumph, it will be the first time a European team has won the World Cup in South America.
Previous polling on the World Cup suggests this was a final match-up few had hoped for. Following England's elimination during the group stage, British football fans preferred either the Netherlands (25%) or Brazil (19%) to win, the two teams that were defeated by Argentina and Germany in the semi-finals. At that point, only a combined 12% wanted either of the eventual finalists to win the tournament, and Germany and Argentina ranked second and third among the teams the most British people would be unhappy to see win.
Image: Getty