The Netherlands is the most supported in Britain out of the final 16 teams in the World Cup, topping Brazil
England is out, but the World Cup goes on. With two weeks still to go until the final, the competition has entered the knockout stage, when each match will see the winner progress and the loser sent home.
According to a new YouGov poll, the most popular team among British football fans is now the Netherlands, who lost to Spain in the finals in 2010 but pummelled the same team in their first game of this World Cup. A quarter (25%) of football fans want the Dutch side to win. The hosts, Brazil, come in second with the support of 19%.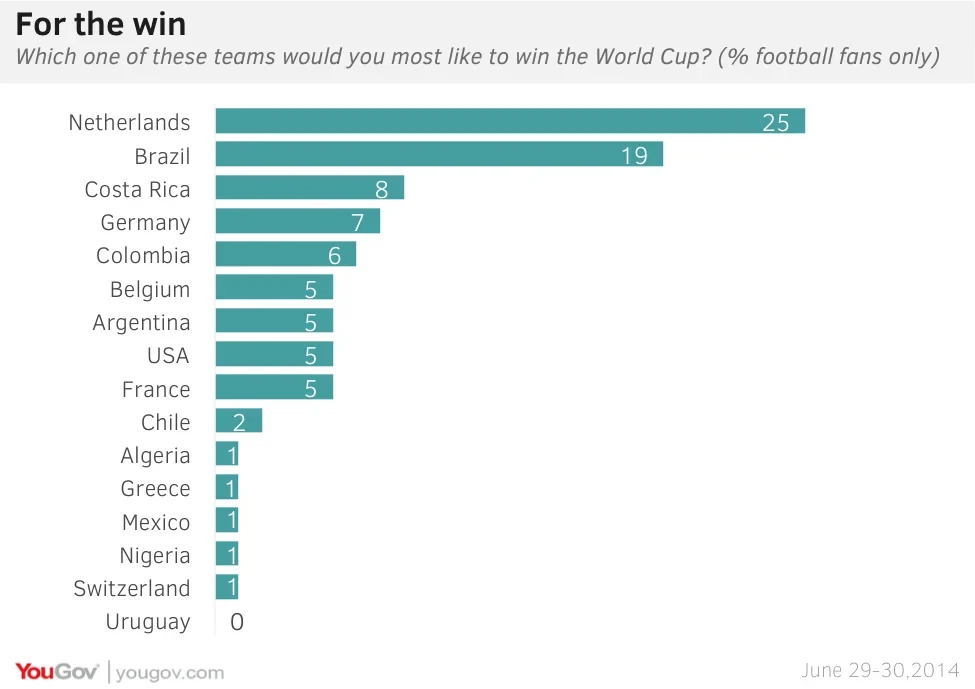 The Netherlands are also the only team that most (52%) football fans in Great Britain would be happy to see win. Brazil comes in second again (45%), with Belgium (37%), Costa Rica (36%) and Colombia (34%) rounding out the top five.
The Netherlands and Brazil have both secured places in the quarter finals following their respective wins over Mexico and Chile.
On the other hand, a third (32%) of football fans would be unhappy to see the Cup go to Uruguay, who beat England 2-1 but were knocked out in Saturday's game against Colombia. Germany (28%), who defeated England in 2010 during the knockout stage, and Argentina (26%) are close behind.
The most exciting world cup?
The same survey also finds that, despite England's early exit, about half of football fans would rate the 2014 World Cup as one of the most exciting (41%), if not the most exciting (10%) World Cup ever.
A recent analysis of the group stage play by the BBC found that the number of goals scored, close games, last minute winners and games with winners at this World Cup suggest that it may actually be shaping up to be – statistically-speaking – the "greatest" in recent history.
Image: Getty