Londoners are just as bullish about the future of London housing as they were last year, and only a third see a crash on the horizon
The Bank of England has announced new limits on high loan-to-income mortgages on Thursday, in an effort aimed at averting crisis that could pose a serious risk to the UK financial system. Selling asking prices in the capital fell by 0.5% last month, but the property market in the UK, particularly in London, has seen record price increases in recent months, raising fears of a bubble.
According to a new YouGov poll of Londoners, three-quarters expect house prices to continue to rise over the next 12 months. This shows virtually no change from May last year, except for an 8 point increase in the number who expect prices to rise "a lot".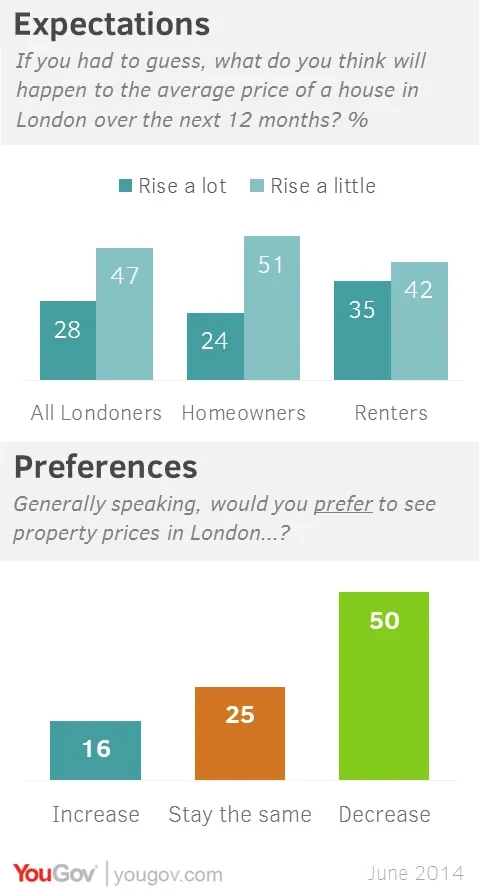 Expectations are actually highest among renters, some of whom stand to be shut out of the housing market altogether if prices continue in the sky-is-the-limit trajectory of the past year.
In recent months the national mood has turned against the surging property market, with more voters now believing that the price rises are unsustainable – and will lead to a market crash. Surprisingly, though house prices in the capital have so far led the way, Londoners buck the national trend. The majority (53%) of Londoners think prices will "keep on rising" and only a third (34%) think they will crash sooner or later.
That's not to say the trend is not a top concern for the public. In fact, YouGov's latest survey for the Evening Standard finds that Londoners would prefer to see house prices decrease rather than increase, by 50-16%. Another 25% would prefer prices to stay the same.