YouGov's latest Scottish independence figures are 'Yes' at 36% (-1) and 'No' at 53% (+2) – but the Yes campaign tends to be seen as more positive
Alex Salmond said there is still time for the 'Yes' campaign to close the gap on the pro-union Better Together campaign, after the 100-day landmark for September 18th's Scottish independence referendum passed this month. "If the No campaign keep saying that the seven plagues of Egypt are going to descend on the country once we vote for independence, are they going to be believed? I think the answer to that is 'No'.", he said.
The latest YouGov poll puts the No campaign 17 points ahead of the Yes campaign. Yes are on 36%, down one since April, while No are on 53%, up two. Excluding don't knows, Yes have 40% while No have 60%.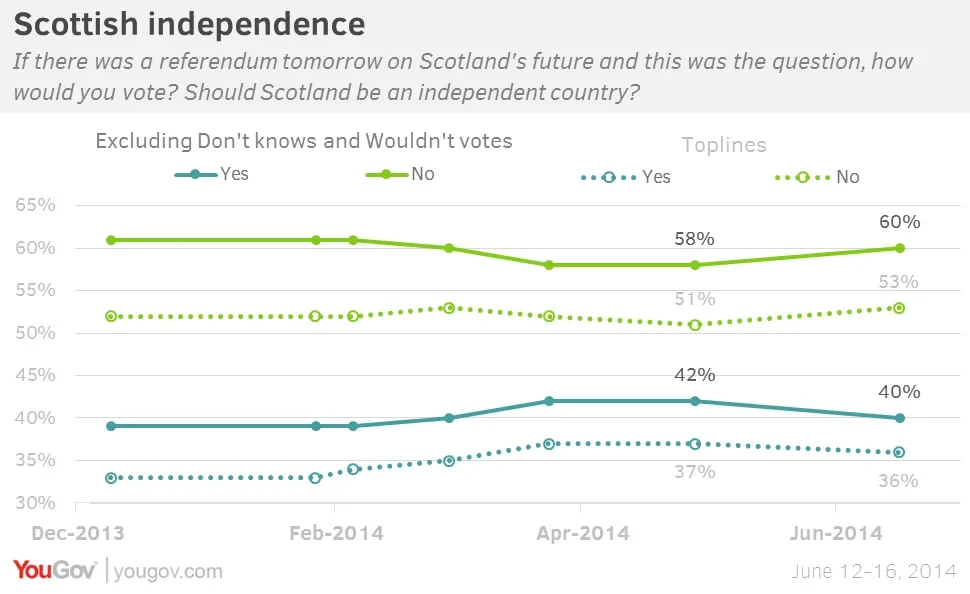 There appeared to be a small, slow drift towards Yes from 33% before Christmas to 37% in March. However, since then any changes have been within the margin of error, making it difficult to discern if the trend is continuing or stagnating.
Campaigning
As Alex Salmond indicated, the No campaign has been criticised for focusing on the potential negatives of Scotland leaving the Union, rather than on the shared benefits of the UK. The poll finds that the Yes campaign is indeed viewed as being more positive, by 47-36%, while the No campaign is viewed as having so far been negative, by 52-30%.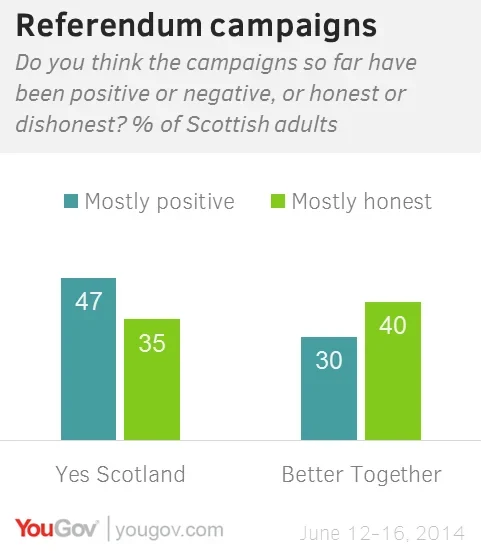 The Yes campaign are also seen as being more dishonest than honest, however, by 42-35%. The Better Together campaign, in contrast, is seen as more honest than dishonest, by 40-34%.
In terms of the strength of campaigning, the survey finds that 49% of Scottish people recall being contacted by the independence side compared to 38% who have been contacted by the pro-Union side.
Gordon Brown recently attracted criticism by suggesting that any televised leadership debates on the referendum should be between Alex Salmond and David Cameron, rather than the Scottish first minister and the leader of the Better Together campaign, Alistair Darling. The worry among supporters of the Union is that a debate with David Cameron would make the referendum look like a choice between Scottish nationalism and English conservatism, however Scots prefer a debate with Mr Cameron over Mr Darling by 48-22%.
Image: Getty