18-24 year olds are more likely to emphasise the importance of their career in the next 10 years – and much more likely to consider creating a bucket list than the older generations
A new YouGov survey for the University of Southampton looks at people's plans and aspirations and assesses how confident they are of achieving these goals. Overall, 45% have some fixed plans for the next 10 years and over 70% of them are confident of achieving them. But while on the whole British people select family (65%) and health (63%) as being most important to them in the next ten years, the younger generation are more career-driven.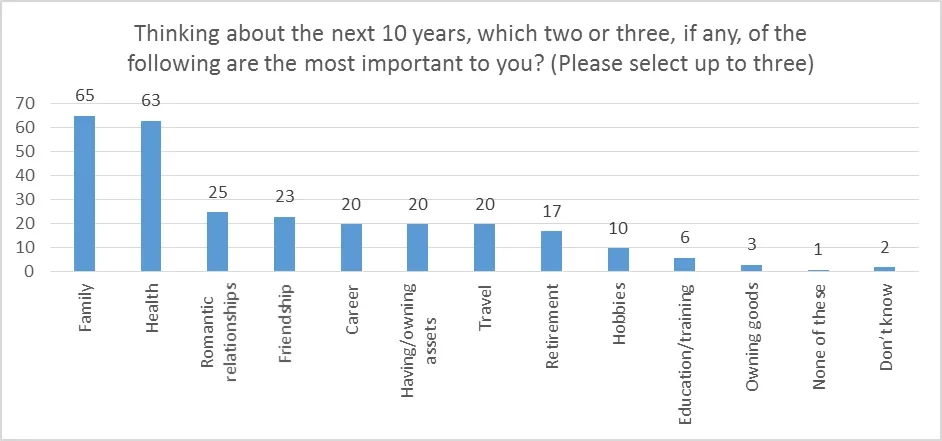 18-24 year olds are considerably more likely to select career as being important to them than the rest of the age groups: 54% choose this compared to 31% of 25-39 year olds, 16% of 40-59 year olds and 1% of those over 60. Though recent figures show the number of unemployed 16-24 year olds has fallen, nearly 30% of young people looking for work remain unemployed, representing an unfortunate disparity between their aspirations and what is currently being achieved.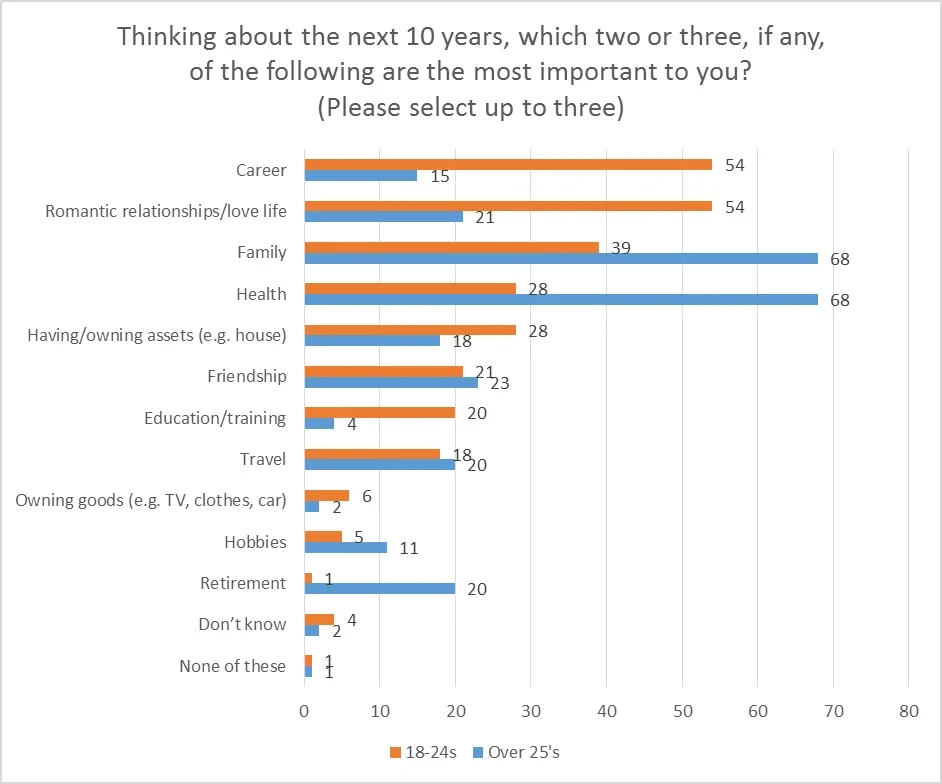 The results also demonstrate the stronger importance 18-24 year olds place on their love life and romantic relationships, with 54% of young people selecting this option compared to 31% of those aged 25-39. The importance of family and health appears to increase with age, with those aged 60+ nearly twice as likely as 18-24 year olds to indicate that family is the most important thing to them in the next 10 years.
Additionally, the survey asks those aged over 25 what they think should have been important to them when they were aged 18, revealing the advice older generations might give to current 18 year olds. Whereas 54% of 18-24 year say their romantic relationships/love life are most important to them over the next 10 years, only 27% of those over 25 say that's what should have been important to them when they were 18.
Continuing the theme of aspirations, the survey asks whether people have made or would consider making a bucket list – a list of things to achieve before you 'kick the bucket'. Young people are significantly more likely to consider making a bucket list, with 57% saying they would consider doing so compared to only 26% of those aged over 60. When asked what they would put on their list, travel is by far the most popular aspiration, with nearly half listing travel related activities as top of their bucket list. Of these, America, China and Australia proved popular destinations.
Getting married, having children and general family and relationship orientated activities are the next most popular goals. Related to this, many people also put securing their finances and happiness of their loved ones as being the most important thing to do before they die.
There are also a wide variety of responses ranging from the very general to the very specific, such as desires to "organise a music festival", "change maths education nationally" or to "punch David Cameron and Nick Clegg".
Would you consider making a bucket list? Have a look at some of the results and consider what you would have put.