Most British people want Camilla to take on the traditional title of queen consort if Charles is crowned, rather than take a lesser title – but women are more divided on the issue than men
The Duchess of Cornwall made a royal splash last week when she appeared at the State Opening of Parliament sat at the right hand of her husband, the Prince of Wales, wearing a diamond tiara and looking particularly queen-like, according to some observers. The duchess's regal appearance adds to speculation that Prince Charles' second wife would be more of a traditional royal partner if he becomes king, and take on the title of queen, something which was once thought to be highly unlikely for the least popular member of the immediate royal family.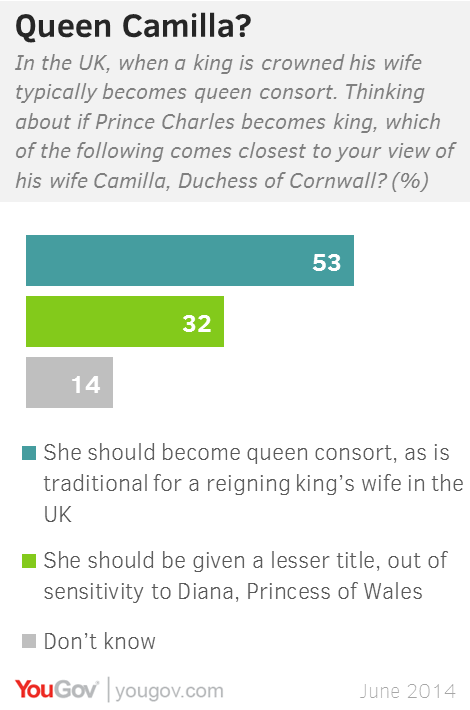 A new YouGov poll finds that the British public back giving the her the title of queen consort should Charles become king.
53% say Camilla should be queen consort, while 32% think she should be given a lesser title "out of sensitivity to Diana, the Princess of Wales".
The title of queen is traditionally given to the wife of the king. While the duchess herself has previously said that she would be called princess consort rather than queen, it is believed that she and Charles are gradually coming around to the idea.
Women are more opposed to the Duchess of Cornwall taking on the traditional title. 38% of women say she should be given a lesser title (49% favour 'queen consort'), compared to only 27% of men. Over-60s are also particularly likely to express doubts about calling Camilla queen (41% favour a lesser title).
Camilla is also not a stranger to controversy over royal titles. As the wife of the Prince of Wales, she is technically the current Princess of Wales, like Diana before her. However, at the time of her wedding to Prince Charles Camilla announced that she would style herself as the Duchess of Cornwall.
Image: Getty