56% say the government should introduce rent controls – and the majority say governments should be more willing to intervene in markets generally
In his second major proposal involving a market intervention, Ed Miliband said on Wednesday that a future Labour government would cap private sector rent increases, scrap letting fees to estate agencies and make three-year tenancies the standard contract.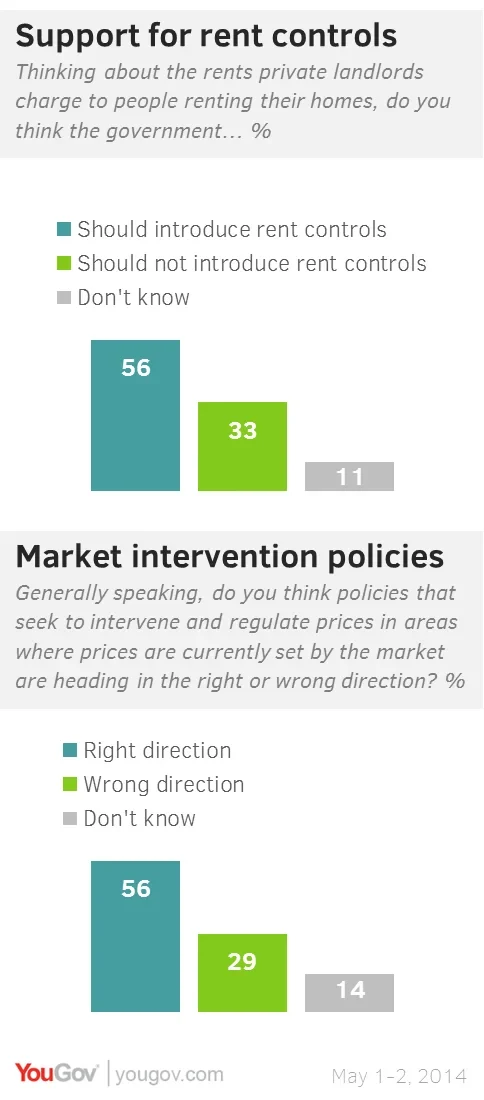 The Conservatives have called the move an attempt to "introduce Venezuelan-style rent controls", while others claimed the policies are 'anti-business'. But a new YouGov survey for the Sunday Times finds that most people support the idea.
Labour are at pains to state that the policy stops short of rent controls as the market would set the initial rent (only above-average increases would be outlawed), but still 56% say the government should introduce rent controls, limiting the amount that landlords can charge people renting their properties.
33% say the government should not introduce rent controls, leaving landlords to set the amount they charge tenants.
Labour voters are most in favour of rent controls (76-16%), but the majority of Liberal Democrat (53%) and UKIP supporters (52%) feel the same. 35% of Conservatives are in favour, while 57% oppose.
Mr Miliband's first proposed market intervention was the two-year freeze on energy prices, supported by 63% at the time.
In general, 56% of people say governments should be more willing to intervene in the market to control prices, while 29% say generally market interventions are a move in the wrong direction and that governments should allow the free market to set prices.
Critics say that Labour's rent announcement could threaten an already suffering housing supply: "basic economics tells us that if you artificially hold down the price of something, you get less of it in the market". The party have earlier announced they would build 200,000 houses a year by 2020, however. The move may also be shrewd in political terms, as analysis suggests 37 of Labour's target seats have large numbers of private renters - a group that support rent controls by 60-31%.
Image: Getty