Most Londoners think the Shard has changed the Capital's skyline for the better – the same goes for the Gherkin, but the so-called 'Walkie Talkie' has failed to impress
The 310m, 87 storey glass skyscraper that is now Europe's tallest building has attracted criticism to match its scale: "A towering icon of inequality", "egomaniacal architecture", "the tallest white elephant in the world".
But Italian architect Renzo Piano is keen to convince locals the building is not just another monolithic high rise.
A new YouGov survey of London residents finds that 57% say the Shard has changed London's skyline for the better. 21% say it hasn't made much difference and only 15% say it has made the skyline worse.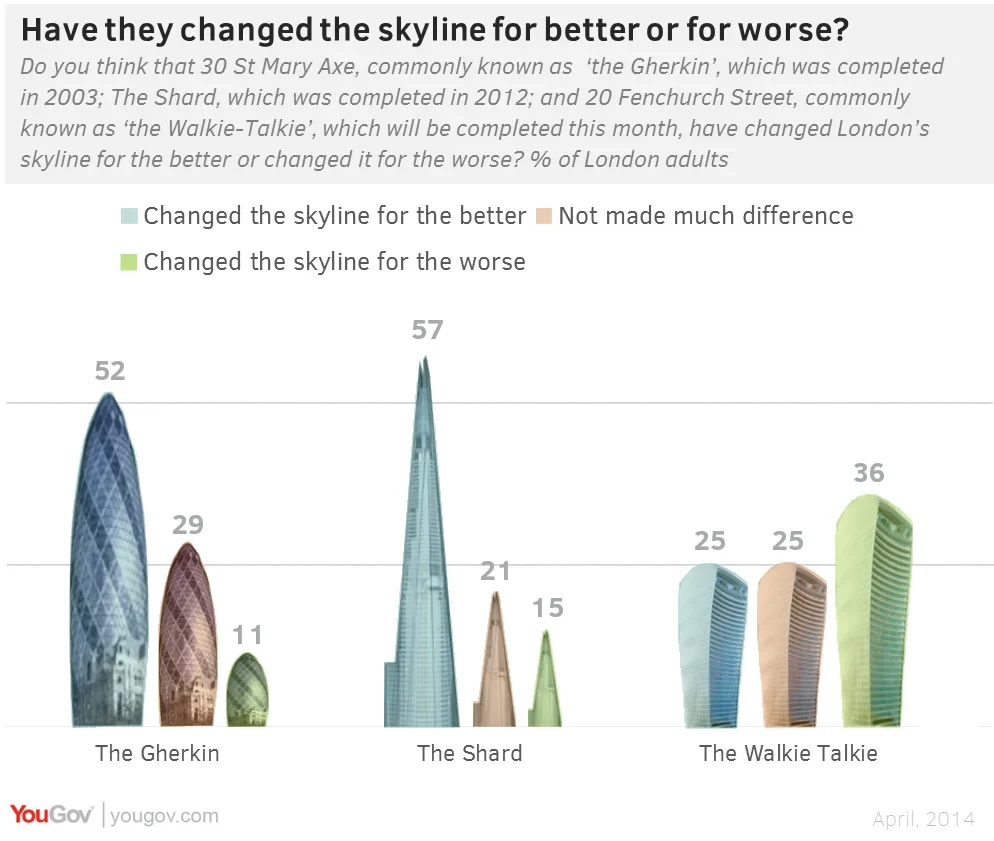 Also popular is 'the Gherkin', or 30 St Mary Axe. The building was completed in 2003, and in its 11 years of existence it has convinced 52% of Londoners that it has changed the skyline for the better. 29% say it hasn't made much difference and only 11% say it has been to the detriment of the skyline.
The still to be completed 20 Fenchurch Street, or 'Walkie Talkie' as it has been dubbed, has gone down less well, however. Londoners in equal measures say it has had a positive effect (25%) and made no difference (25%), but more (36%) say its impact has been negative.
Research suggests that 236 new buildings of 20 storeys or more could be on the way to London. When asked in March for their opinions, 39% of Londoners said this would make the city's skyline worse, while 21% said it will change it for the better and 31% said it wouldn't make much difference.
Image: Getty