Although most people don't have an opinion, 31% of those who do say the former Happy Mondays dancer would make a good MP – while 69% say he would not
"People want to blame drugs for all kinds of things. But they opened my mind. A lot of the best things in me manifesto will be 'cause of acid", said Happy Mondays maracas player and Celebrity big Brother winner Bez.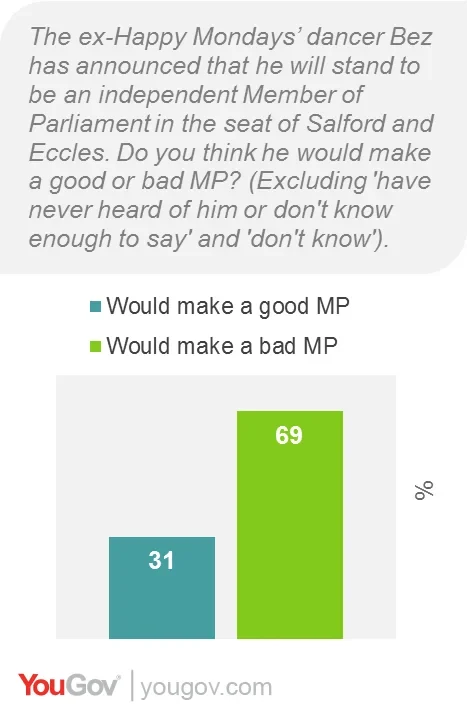 He recently announced that he plans to run for MP in his birthplace of Salford: "I've been saying we need a revolution and there's no good shouting about it when you're not actually doing anything."
Key policy areas include anti-fracking, redistributing wealth and "a permacultural society where we'll end illness and get everybody back to an alkaline state."
A new YouGov survey finds that, excluding those who don't know enough about Bez to say (43% of the total) or don't have an opinion (19%), 31% think he would make a good MP while 69% say he would make a bad one.
Bez, real name Mark Berry, is expected to stand as an independent candidate in Labour safe seat Salford and Eccles, which was formerly Hazel Blears' until she stood down to spend more time with her family. He says he may call his party the Reality Party, which he hopes could alter the "social conditioning" we have been subjected to.
Image: Getty