In a new poll, London voters add their say to the speculation around Boris Johnson's next move
Whenever Boris Johnson is asked if and when he plans to re-enter parliament, he prefaces his answer by restating his commitment, first and foremost, to the people of London: "I'm sticking to my job that I was elected to do in 2012 and indeed in 2008 and I'm very ... very privileged to be here."
Observers speculate that he could both honour that commitment to serve a full term and still become an MP in 2015 – Ken Livingstone did both jobs in 2000-2001. Since the Prime Minister intervened last week, suggesting that he do exactly that, attention has been even more focused on this possibility.
A new YouGov poll of 1572 London voters will add a new dimension to Mr Johnson's calculation.
Asked how they would feel about the Mayor leaving his post early to re-enter parliament, they are remarkably understanding (47% support, 32% oppose), but when presented with the idea that he might do both jobs for a year, the trend reverses (42% support, 44% oppose).
Part of this may be partisan (voters who don't support him are more likely to support the idea of him quitting early) but it also suggests that Londoners prioritise having a full-time Mayor over the current incumbent serving out his full term. In other words, if it is the people of London that he is putting first and foremost, they would prefer him to make his intentions clear than keep his options open.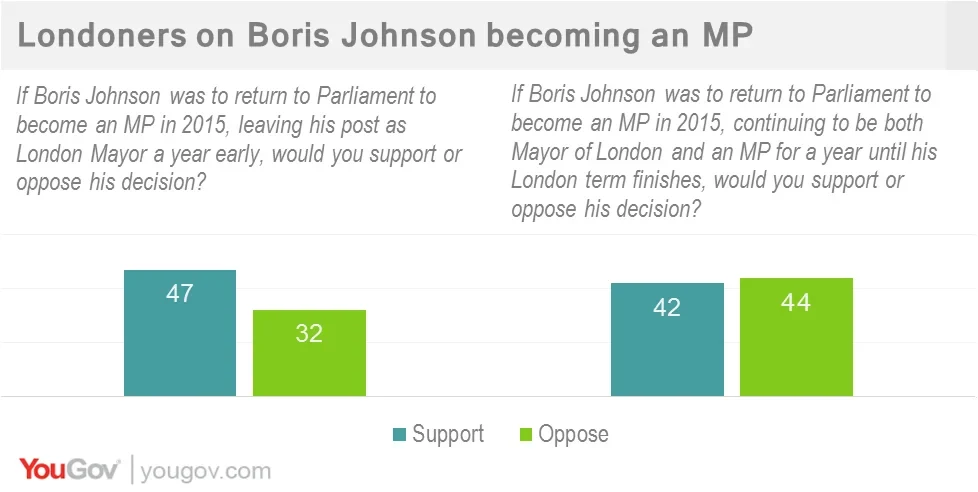 Asked to speculate as to Mr Johnson's next move, Londoners seem to think that a return to parliament in 2015, leading to an eventual bid for the top job of prime minister, is almost a foregone conclusion.
Displaying a wry disregard for his protestations to the contrary, 52% of Londoners think that it is likely he becomes an MP again in 2015, and an even higher 63% think it is likely that he will try to become prime minister at some point in his career: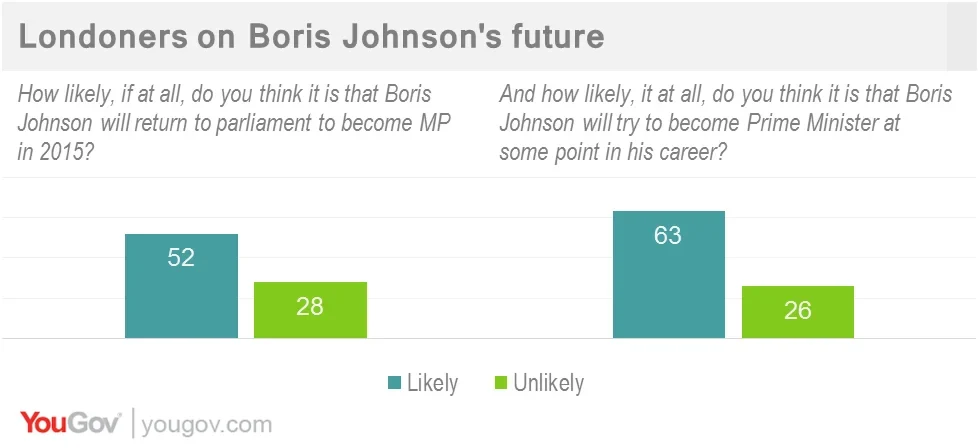 The poll gives the impression of a politician who, for now, enjoys a high degree of indulgence from his constituents. They are fully expecting him to go on to a career in national politics. But his current status – of committing to serve his full term but keeping open the possibility of re-entering parliament last minute in 2015 – turns out to be the least popular among the people whose wishes he insists he is putting first.
Image: Getty