Most people have an instantly negative reaction to the 'Bingo' image tweeted by Grant Shapps – and only 8% play bingo more than once a year
"I thought it was a spoof at first, it's just pretty extraordinary. It may be our Budget but it's their words, I think it's rather patronising." Those were the words of coalition ally Danny Alexander to Conservative Party chairman Grant Shapps's tweet, which read: "#budget2014 cuts bingo & beer tax helping hardworking people do more of the things they enjoy", along with the picture shown in the chart.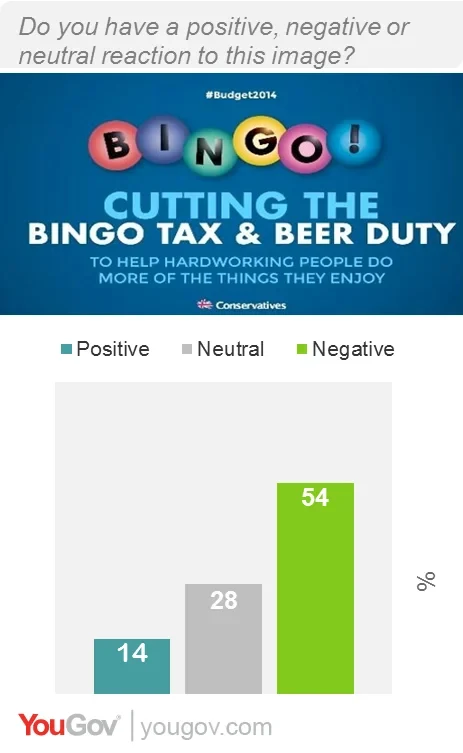 A new poll by YouGov, which showed people the picture tweeted by Mr Shapps, finds that the negative response was not exclusive to twitter.
54% have a negative reaction to the image, while 28% react neutrally and 14% react positively.
Although the biggest reaction amongst conservatives is neutral (38%), more (36%) have a negative reaction than a positive one (24%).
The poll also finds that only 8% of people play bingo more than once a year, while 4% play it once a year and 9% play it every few years.
There is a slight variation in frequency of bingo playing by income. 12% of those earning under £25,000 play it more than once a year, as do 9% of those earning between £25,000-£39,000, 6% in the £40,000-59,999 bracket and 4% of those earning £60,000 or more.