Since last year's Budget, the Chancellor's approval with the public has gradually improved
Today chancellor George Osborne presented the 2014 Budget from at the House of Commons. Armed with news that the GDP growth forecast has been revised up to 2.7% for this year, Mr Osborne unveiled an array of new measures, including higher limits on tax-free ISAs and a new "Pensioner Bond" among the speech's surprise announcements.
According to polling conducted in the days before Wednesday's budget announcement, the chancellor gave his speech from in a stronger position with the British public than he was in immediately after presenting last year's budget.
Approval of the job George Osborne is doing as Chancellor of the Exchequer has improved steadily over the last twelve months. While it remains true that more say Mr Osborne is doing a bad job (39%) than say he is doing a good one (33%), the six-point deficit marks a dramatic change from the 28-point gap that separated the negative from the positive marks last March, when fully half (50%) of the public said Mr Osborne was doing a bad job.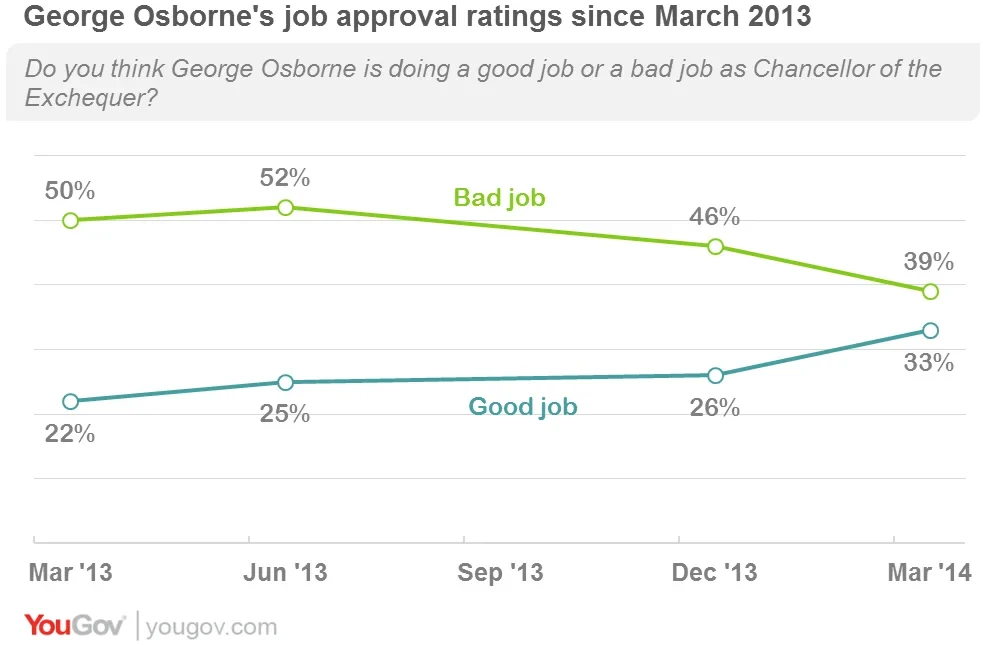 The March 2013 polling was conducted during the evening and morning after Mr Osborne's budget speech.
Approval of the chancellor has seen its most dramatic improvement among Conservatives (+21% "good job") and UKIP supporters (+23%), although his standing has also improved somewhat with Labour voters (+6%) and Lib Dems (+10%).
Another measure by which Mr Osborne is in a stronger position than he was in March 2013, is how he compares to his Labour counterpart, shadow chancellor Ed Balls. Improvement here is more modest, but when voters are asked who would make the "better Chancellor" Mr Osborne now leads Mr Balls by 13 points, compared to six points 12 months ago.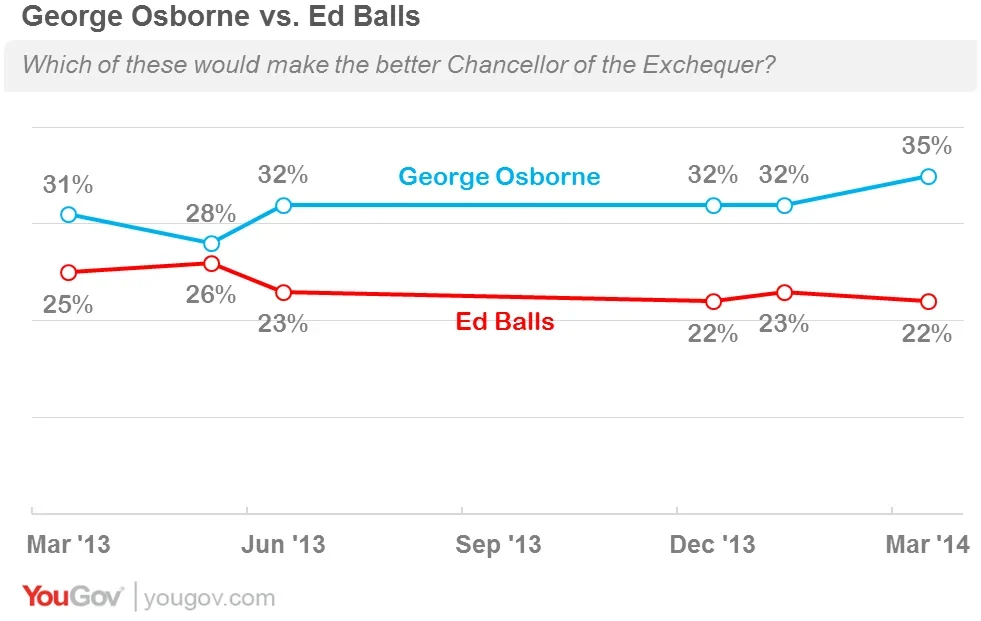 The chancellor, arguably the economy's most visible steward besides the prime minister, may be benefiting from growing optimism about the British economy. YouGov's latest polling has shown that roughly half of the public now view the economy as in recovery, and many voters give the government's policies credit for the progress.
Image: Getty
See the March 2014 poll results
See the March 2013 poll results