A poll of X Factor viewers reveals that the return of Simon Cowell and Cheryl Cole will make all the difference – but which judges should face the sack?
Now that Simon Cowell and Cheryl Cole have announced their return to the X Factor, a burning question remains: there can only be four judges, so who from the current panel should be sacked?
On the eve of the X Factor 2013 finale YouGov surveyed well over a thousand X Factor viewers – asking just that.
First of all, there is no doubt that bringing Cheryl and Simon back is a good move for ITV, who will be hoping that the return of the big beasts will bring back some of the ratings lustre of previous series.
46% of X Factor viewers in December 2013 said Simon Cowell was the one judge they would most like to see return; 23% said Cheryl Cole; far behind was Danni Minogue (11%) and Tulisa Contostavlos (9%). Additionally, 55% said the show would be better if Cowell returned.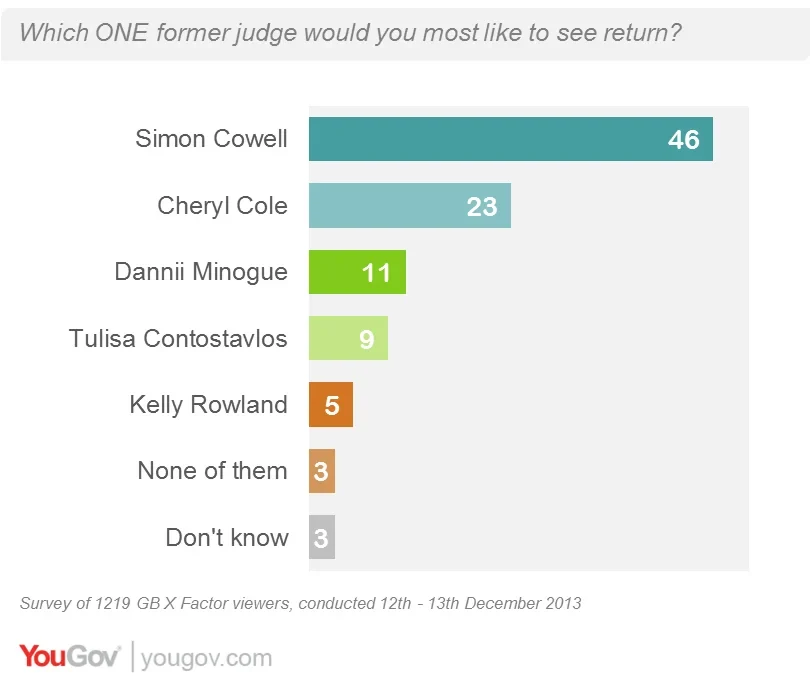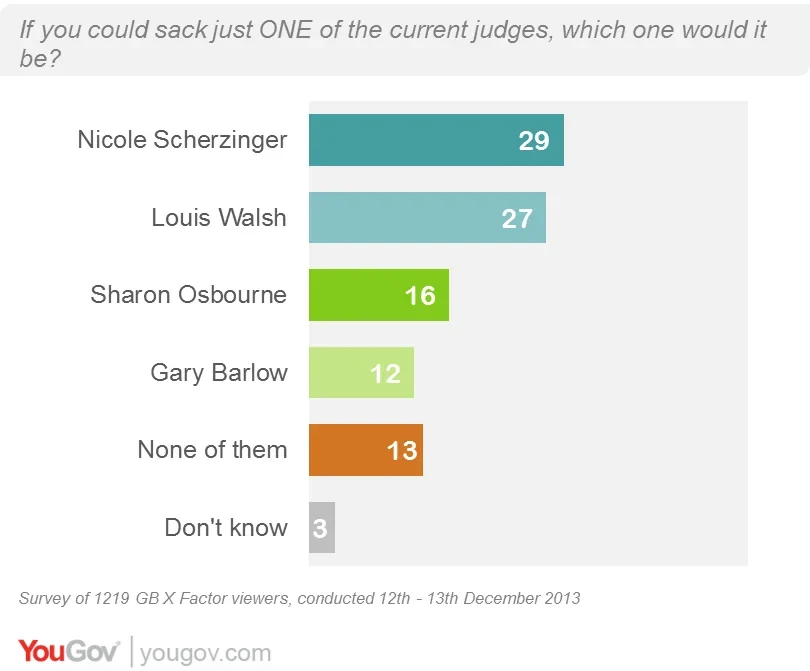 Moreover, Louis Walsh is chosen by viewers as the most boring of the 2013 panel (37% say he is compared to 21% for Nicole Scherzinger).
That means that – barring the possibility of completely new judges for 2014 – Gary Barlow and Sharon Osborne are the clear favourites to join Cheryl Cole and Simon Cowell as the X Factor judges of 2014.
Gary is favoured to come back by 70%, while the second favourite, Sharon Osborne, is favoured to stay by 61%. Scherzinger and Walsh, on the other hand, are only favoured to 50% and 48%, respectively.
Cheryl and Simon fell out when he fired her from the panel of the US version of X Factor in 2011, but on Monday night Cowell welcomed her back, tweeting: 'It's official. Cheryl is back. Be careful what you wish for!'