A new poll, and a reminder that Euroscepticism in Britain may have its limits
Once a month we ask how people would vote in a referendum on EU membership. This month we found 41% of people said they would vote to stay, 39% would vote to leave, the first time in over a year that we've shown more people wanting to stay in the EU than leave (the previous occasion was back in January 2013 just after David Cameron first announced his referendum pledge and there was a flurry of publicity around the issue).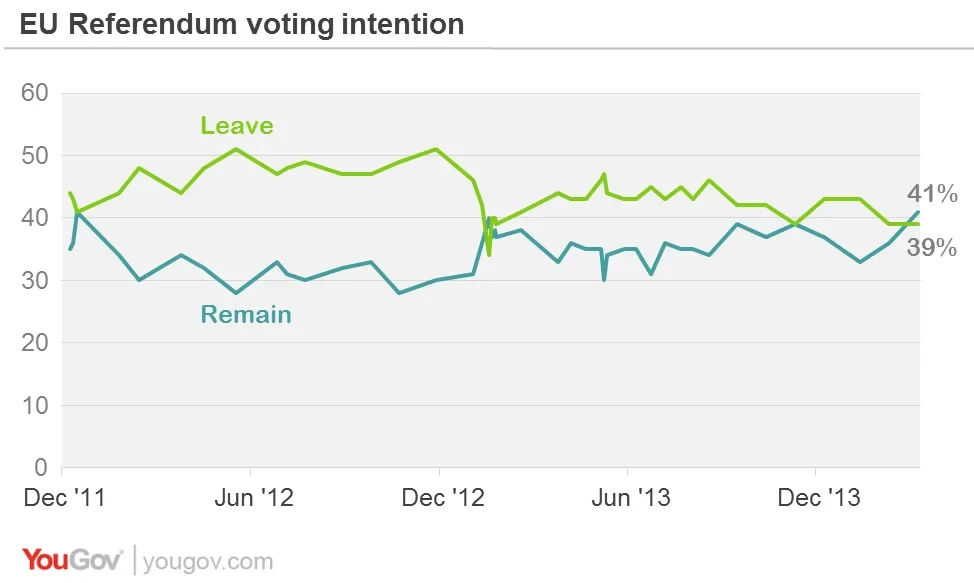 Polls vary from one to the next of course, so this one poll doesn't mean the British public have suddenly become pro-European, but it's a reminder that the difference between the level of support for leaving and staying in the EU has become very small. Back in 2012 our polls used to regularly give those supporting leaving the EU a 15 to 20-point lead over those who supported staying. Since David Cameron made his promise to hold a referendum that lead has been consistently smaller, often only a few percentage points between staying and leaving. Britain may be a Eurosceptic country – all our other polling shows widespread hostility towards the idea of greater integration and support for bringing some powers back from the EU – but it is not a country that would necessarily support leaving the EU completely.
Image: Getty
See the full EU Tracker results here