Nick Clegg is viewed more negatively than Nigel Farage – but the Liberal Democrat leader scores better on important traits like intelligence and suitability for government
The BBC have today announced that they will air an hour-long head-to-head television debate between the Liberal Democrat and UKIP leaders on the issue of Europe, to be hosted by David Dimbleby on Wednesday 2nd April.
Nick Clegg is pro-EU while Nigel Farage wants withdrawal, but politics won't be all that settles the debate: personality is also key.
In terms of general favourability, Nick Clegg undoubtedly fares worse. By 56-12% the public have a negative opinion of him; Nigel Farage is viewed negatively by 46-19%.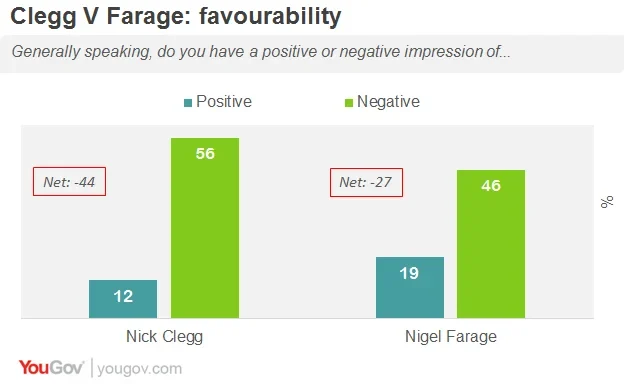 Clegg is not rescued by natural Liberal Democrat supporters: only 47% of them have a positive view of their leader, while 75% of UKIP voters view Nigel Farage positively.
However on key traits, Mr Clegg comes off rather better. He is seen as more likeable than Nigel Farage by 30-19%; more competent by 27-17%; more intelligent by 27-11%; and more honest by 25-21%. He is also seen as best suited to have a role in government by 28% to Farage's 14%.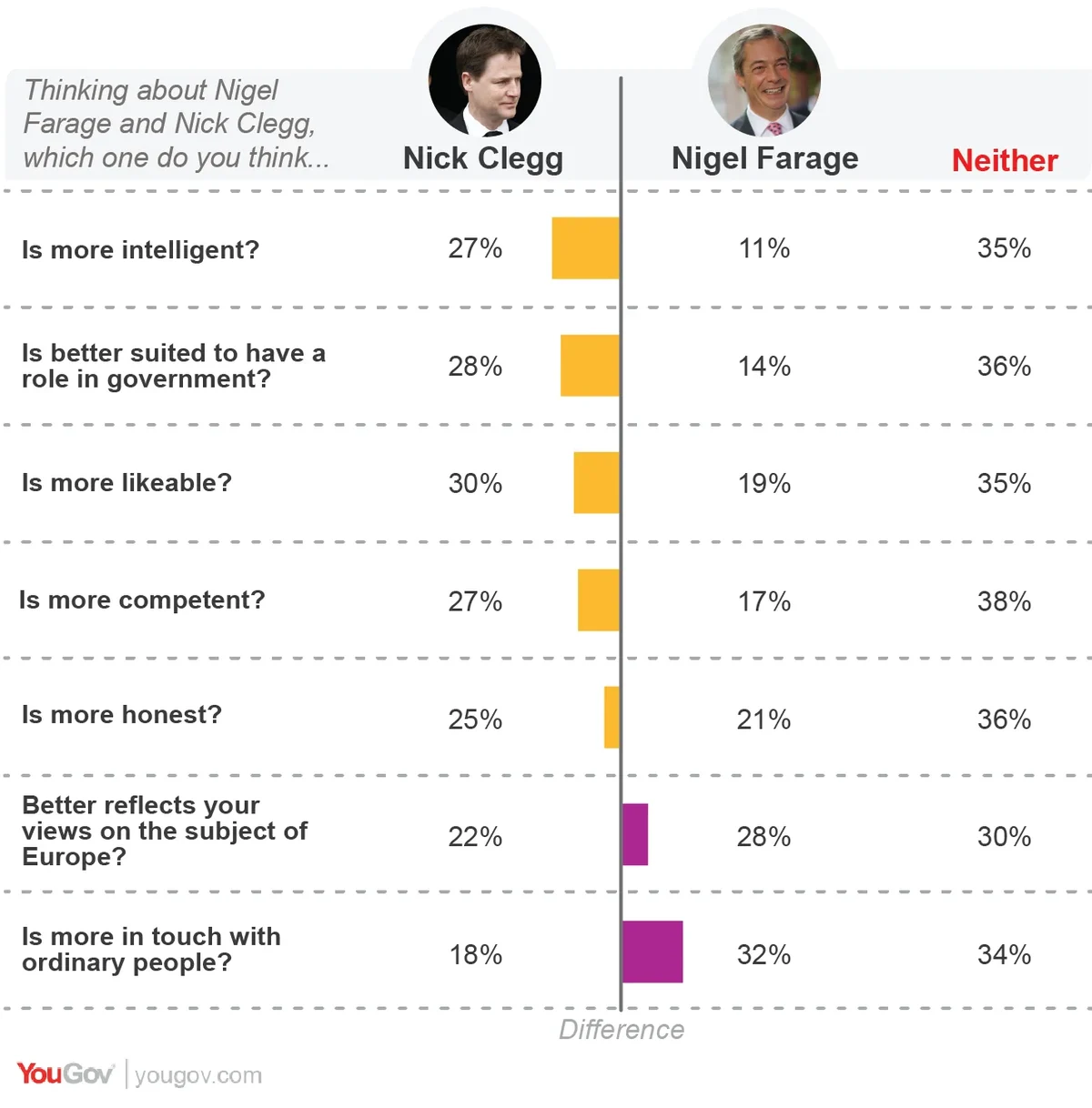 The UKIP leader is, however, seen as more in touch with ordinary people by 32-18%. And 28% say he better reflects their views on Europe, while 22% say the same of Nick Clegg.
Will Farage win the debate?
Specifics aside, Nigel Farage slightly edges Nick Clegg on who would win the debate, by 33-26%. Supporters of all parties bar the Liberal Democrats agree: Conservatives by 36-32%, Labour voters by 32%-27% and UKIP supporters by 82%-2%.
The deputy Prime Minister will also face Nigel Farage in a radio debate on LBC prior to the television event. Mr Farage has urged David Cameron and Ed Miliband to take part in a four way televised debate on the European Union, but so far there has been no response.