YouGov asked people to predict what the national voting intention figures would be at the end of 2014. Here are the results.
YouGov recently ran a competition, open from January 17th-31st, that asked participants to estimate the end-of-year voting intention figures to win a prize, after Steve Thompson won last year's competition by guessing each party's position exactly (except for UKIP – he was 2 points high). The same question was then asked to the general public in a nationally representative survey.
The predictions, averaged together, give a window into what direction British people see the winds of political change heading this year, in the run-up to the general election next May. And if the popular wisdom is correct, the Conservative Party will be within striking distance of a lead, but really 2014 will be a year for the 'alternative' parties.
Compared to YouGov's aggregated figures for January of this year, the Conservatives lose one point, and Labour lose five. Every other party gains – the Lib Dems by four and UKIP by two – but the Scottish and Welsh nationalist parties and the Green Party make the biggest gains of all, adding six and five points, respectively, over a year that will include the Scottish independence referendum. Of course, these high numbers may also result from an underestimation of the share parties like Green and SNP currently have.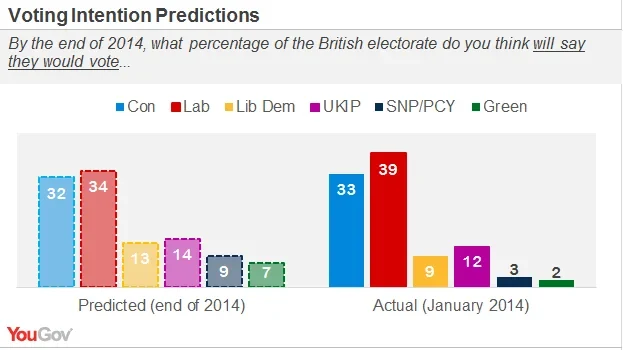 However, the topline figures belie the extent to which the challenge may been an exercise in wishful thinking for many. Looking at the predictions of people who currently intend to vote for each of the four main parties paints four very different pictures of where Britain will be in ten months.
Only Labour voters expect their party to be in the lead. The Liberal Democrats have Labour and the Tories tied on 32%, with their own party back at its highest level since the month before the last general election (June 2010), double its current level. Conservatives have themselves at a five point lead and UKIP supporters, the most bullish group of all, have themselves up 14 points and within seven of the lead.