Public perceptions of the Sochi Winter Games have plummeted following Russia's Volgograd bombings and the introduction of new 'gay propaganda' legislation
Two suicide bombers killed a total of 34 people in Volgograd, a city in southern Russia, on December 29th and 30th. They were similar to previous attacks by Islamist militants operating from the North Caucasus region. Russian President Vladimir Putin vowed to "annihilate" the terrorists and in early January deployed more than 30,000 police and interior ministry troops into the area. Meanwhile, Chechen rebel leader Doku Umarov has urged his fighters to target the Winter Olympics.
According to YouGov, which tracks public perception of Sochi 2014 on a daily basis, the terrorist attacks caused word of mouth exposure of the Games to spike, and buzz – which measures whether respondents have heard something positive or negative about the Games – to plummet, showing how people were saying and hearing negative things about the Olympics following the bombings. However, even as word of mouth has continued to rise in the run-up to the February 7th Opening Ceremony, buzz has remained firmly negative, suggesting public perceptions of Sochi have yet to recover from the aftermath of the bombings.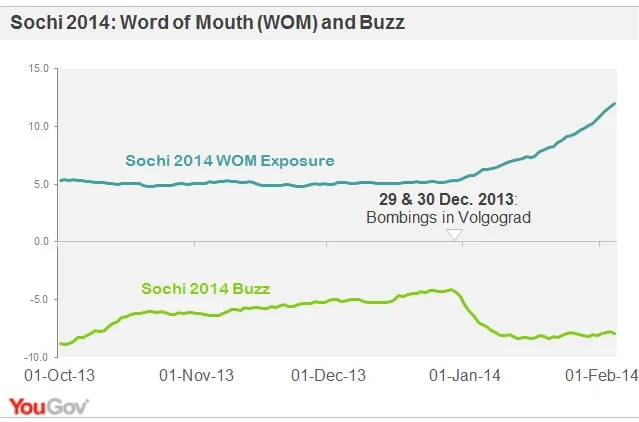 Reputation amongst gays getting worse and worse
In addition to negative press coverage concerning security risks in Sochi, the Games have also been marred by international condemnation of Russia's so-called "gay propaganda" laws, which critics say amount to official persecution of gays, lesbians and transgendered people. This week, UN Secretary-General Ban Ki-moon spoke out again attacks on the LGBT community in Russia, and more than 50 current and former Olympians have called on the IOC to censure Russia for its treatment of gays.
Looking at the 2014 Winter Olympic Games' Index score, which is a composite of six key image attributes, it would appear that not only does Britain's gay and lesbian population have an overwhelmingly negative impression of the Games, but their aversion to the event is becoming stronger as the Olympics draw nearer.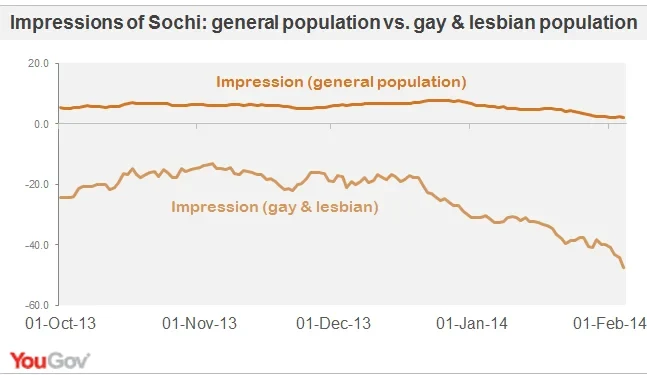 Prior to the attacks, the 2014 Winter Olympics had an Index score of 8 points, but that has since dropped six points and now stands at 2. In comparison, the Games had an Index score of -27 among gays and lesbians in Britain prior to the bombings, and now on the eve of the Winter Olympics that score now stands at -47.6.
From London to Sochi
Interest in the 2014 Winter Olympics immediately prior to the Opening Ceremony also lags significantly behind interest in the 2012 Summer Olympics in London. Days before the opening ceremony of London 2012, 51% of British adults expressed an interest in the Games, including 22% who were very interested. In comparison only 36% are interested in Sochi 2014, with just 7% very interested.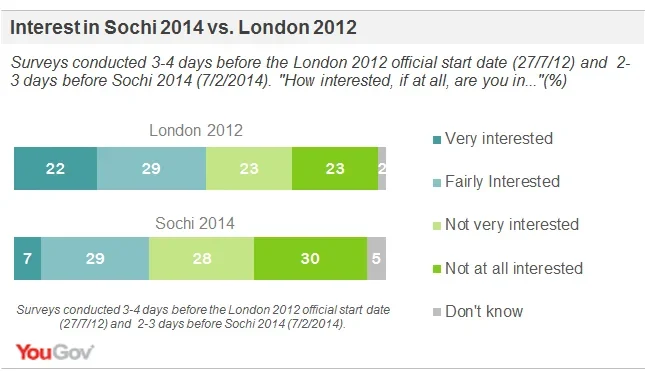 It remains to be seen whether the opening ceremony tomorrow night will lead to an improvement in public perception of the Olympics, but on Thursday morning the US Department of Homeland Security issued a warning to airlines that terrorists might be plotting to bring down planes heading to Sochi with explosives hidden in tubes of toothpaste.
Image: Getty