SNP supporters tend to believe Scotland is more similar to Norway than it is to anywhere else in Europe – including the rest of the UK
When asked which country in Europe Scotland is 'most similar to', 30% of SNP supporters think that it is Norway, according to a new YouGov poll of Scottish adults. 19% say the 'Rest of the United Kingdom' is most similar to Scotland.
In comparison, supporters of pro-union parties like the Conservatives or Labour broadly view Scotland as most similar to the rest of the UK, with only 3% of Scottish Conservative voters and 9% of Labour putting Norway at the top of the list.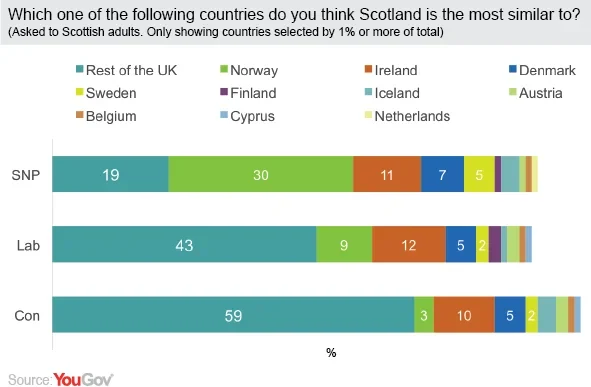 Regular SNP supporters would not be the first to draw the comparison between Scotland and its neighbour across the North Sea.
Earlier this month, SNP Treasury spokesperson Stewart Hosie MP drew attention to reports that every Norwegian is now theoretically a millionaire, due to growth of the wealth fund managing the country's massive oil fortune.
In fact, SNP have for years held up Norway – and its oil fund in particular – as a model for an independent Scotland, using the country's success to rebut claims by pro-union parties that the Scottish economy would be over-reliant on oil revenues if it were to break away from the rest of the United Kingdom.
Images: Getty