61% support increasing the top rate of tax to 50p – and while people tend to think it will bring in more money, 40% say it should be brought in regardless
In an announcement to the Fabian Society conference on Saturday the shadow chancellor Ed Balls declared it would be Labour policy to increase the top rate of tax for those earning over £150,000 to 50p, up from its current level of 45p.
Now a YouGov survey for The Times finds that 61% support the increase while only a quarter (26%) oppose.
Majorities of Labour (85%), Liberal Democrat (65%) and UKIP (57%) voters all support the idea, while Conservatives oppose it by 52%-37%.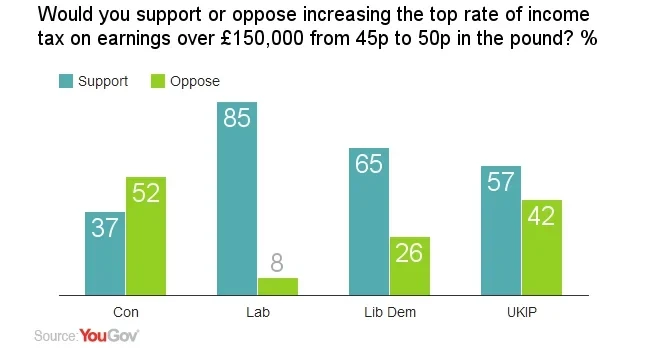 The plan came under criticism from business leaders who warned the pledge could threaten the economic recovery and cost jobs. 45% say the tax would help the economy (including 28% of Conservatives), 19% say it would damage it and 23% say it would make no difference.
While the Institute for Fiscal Studies have today queried Labour's claim that the tax will bring in more money, 50% predict it would while 29% predict it would not.
Ed Balls said the tax – introduced by Labour in 2010 and cut by the Conservatives in 2013 – could help bring the deficit down in a fairer way. 40% say the tax should be introduced regardless of what it brings in, because it is morally right that the rich should pay higher taxes; 44% say it should not be introduced if it does not bring in extra money.
Although mainly Labour voters would support the tax on moral grounds alone (69%), still one in six (16%) Conservatives, 29% of Liberal Democrats and 35% of UKIP voters say the same.
Image: Getty