Amid reports that a 'gentle succession' is already underway, a new YouGov poll for the Sunday Times shows significant support for Prince Charles taking on some – but not all – of his mother's royal duties
While only 42% support Prince Charles taking over ALL of the Queen's current roles and responsibilities and becoming Prince Regent (36% oppose this), three quarters (75%) of the public think it's a good idea for Charles to begin taking on more of the Queen's duties.
Majorities think it would be right for him to stand-in for the Queen when it comes to duties that require travel (like state visits to other countries) or weekly activity (like the audience with the Prime Minister). As for the largely ceremonial duties of the monarch (like the State Opening of Parliament), most would prefer to see the monarch herself.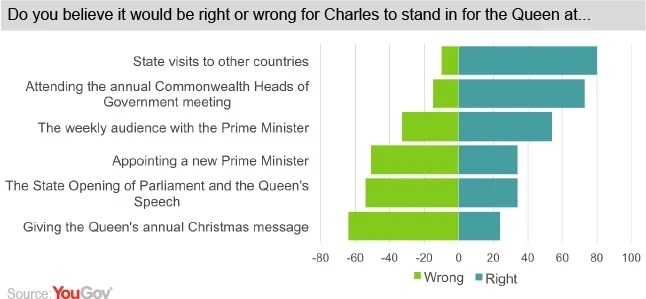 'Activist heir'?
By speaking out on issues as wide-ranging and contentions as the environment, architecture and planning and alternative medicine, Prince Charles has broken with a habit of modern British monarchs – including his mother, the Queen – who have generally avoided expressing opinions on such issues.
But the public don't think Charles should keep his thoughts to himself: 54% say it's appropriate for the prince to speak out about issues he feels strongly about – a sentiment held by the majority of all age groups – while only a third (34%) think he should keep quiet.
Two Princes
Additionally, the majority (53%) of the British people now would prefer Charles to succeed Queen Elizabeth II, as opposed to Prince William (31%). As recently as May 2012 YouGov polling showed the public mostly divided on the matter of succession, with William actually the preferred candidate by 44% to 38% for Prince Charles.
The number who would prefer the monarchy ended after Queen Elizabeth II – with neither Charles nor William succeeding her – is virtually unchanged at around 10% over the same period.
See the full Sunday Times results