It was only released here today, but the British people already want Steve McQueen's slavery drama to win top honours at the Baftas
The British Academy of Film and Television Arts (Bafta) announced their nominees on Wednesday, and blockbuster space thriller Gravity leads with 11 nominations including best film and best British film. But a new YouGov survey asking respondents which of the nominees they'd most like to see win in the best film, leading actor and leading actress categories reveals that it's the slavery drama, 12 Years a Slave, which has a considerable advantage in buzz with the British public.
12 Years a Slave, which has a British director and features British actors prominently, is heavily favoured to win the best film award among people with an opinion on the nominees (roughly half of the total). Gravity and comedy-drama Philomena are virtually tied for second, while piracy thriller Captain Phillips and crime drama American Hustle come in fourth and last, respectively.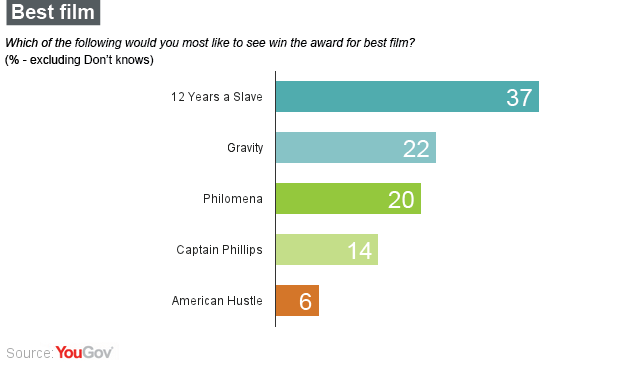 12 Years a Slave's star, British actor Chiwetel Ejiofor, is also favoured to win the best leading actor Bafta, leading Tom Hanks (Captain Phillips), Leonardo DiCaprio (The Wolf of Wall Street), Christian Bale (American Hustle) and Bruce Dern (Nebraska).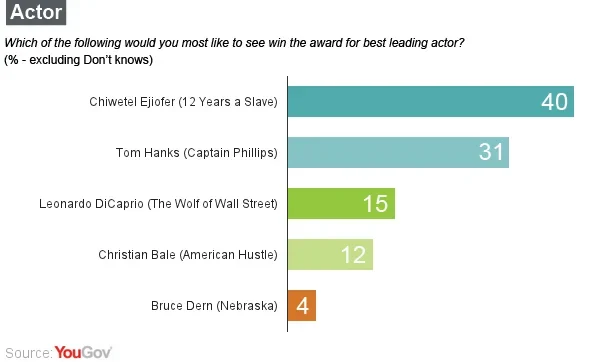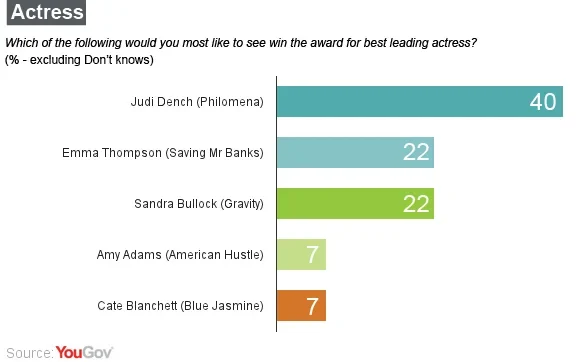 Though it arrived in UK cinemas just today (January 10th), 12 Years a Slave has received unanimous acclaim from critics in the US, where it began its release in October 2013 after premiering at Telluride Festival on August 30th. The film is based on the memoirs of American Solomon Northrup, a free black man who was kidnapped and sold into slavery in 1841. Aside from its Bafta nomination, the film has already garnered a number of accolades.
Bafta winners will be announced on February 16th.
Have you seen any of the Bafta Best Film nominees? Tell us what YOU thought…
Add ratingDescriptionWrite opinion
Add ratingDescriptionWrite opinion
Add ratingDescriptionWrite opinion
Add ratingDescriptionWrite opinion
Add ratingDescriptionWrite opinion
Image: Getty