New YouGov research, commissioned by Newsworks, shows that for the second year running, predictions of a 'tab-tastic' Christmas in the UK are likely to be proved correct, with current ownership up to almost 40% and many more consumers hoping to either buy or receive a tablet as a gift.
16.5 million adults in the UK now own a tablet, while a further 10% will be buying or receiving one this Christmas (2.9 million consumers plan to buy a tablet and 1.3 million expect to receive one), according to a new online study from YouGov, commissioned by Newsworks.
35-44s (12%) are the most likely to buy a tablet as a gift this Christmas, while 18-24s are most hopeful about receiving one
Six out of 10 buyers expect to spend under £200 on a tablet
Current ownership has grown fastest among 35-44 year olds this year: almost half of them (47%) now own a tablet compared with a third (34%) in December 2012. They are the most likely to buy a tablet as a gift this Christmas.
Younger adults (18-24s) have the highest expectations of receiving a tablet as a gift (5%). This is good news for newspaper publishers, as keeping up with news is a core activity for current tablet owners in this age group (62% weekly). Two out of five 18-24s (39%) also spend more time reading news now they own a tablet.
Lots of tablets will also be bought for children this Christmas. Over one in four people buying tablets as presents will give them to a child aged 10 or under (27%), with some going to children as young as five or under (7%).
Brand battles
Surprisingly, over one in five buyers (21%) still haven't decided which brand they are going to purchase2, perhaps waiting for the best deal or new stocks. However, it looks set to be a strong Christmas for lower cost tablets, with six out of 10 buyers anticipating that they'll spend under £2001.
The most popular price range is between £100 and £200 (42%), with just 9% expecting to spend over £400.
Tesco Hudl makes a good showing, with 17% of hopeful recipients thinking that the budget tablet, priced at £119, will be in their stocking2. However, its success may be hampered by supply issues, having sold out in recent weeks and being out of stock on the retailer's website on 'Cyber Monday' (2 December).
Apple is still winning the battle of the brands with 55% ownership among current tablet owners. Its new product, iPad Air, tops the list for consumers intending to buy an Apple tablet (16%), although the cheapest iPad Air is priced at £399.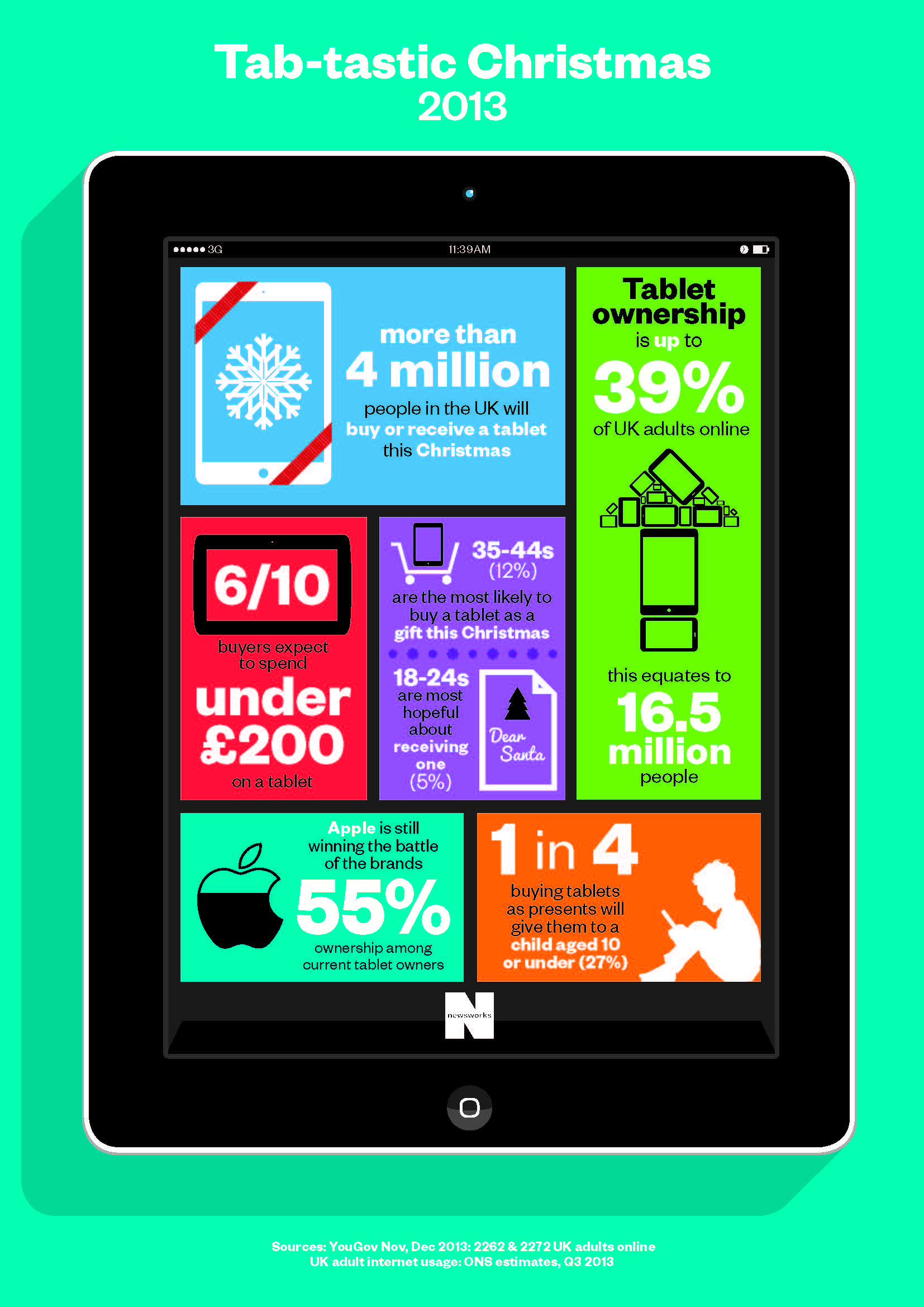 See the full infographic