Only one third of Londoners expect to use the tube after-hours once a month or more often, and many want lower fares to be the London Underground's top priority
Transport for London made headlines recently with the announcement that as of August 2015 there will be a 'Night Tube', with 24-hour services on Fridays and Saturdays on the London Underground's five busiest lines. Days later Mayor Boris Johnson announced a 'real terms freeze' in next year's bus and tube fares, limiting year-on-year increases in fares to inflation levels – 3.1% on average – in an effort to help Londoners struggling with living costs.
The introduction of the 'Night Tube' has received considerable fanfare, but according to a recent survey, it is the decision to curb growth in tube and bus fares that is more likely to be popular with the locals.
Londoners strongly tend to believe that lowering fares should be the London Underground's top priority, preferring this option to 'longer opening hours' by almost 3-to-1 (46%-17%).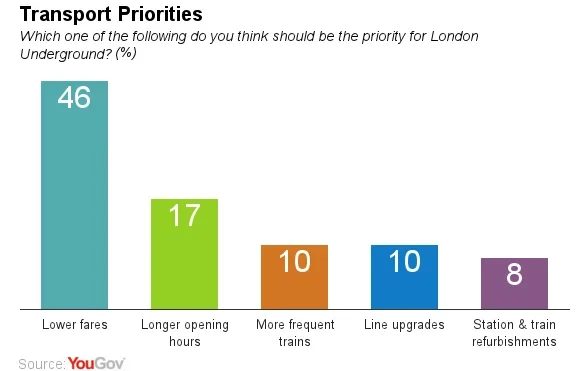 Fares increased by 4.2% in January 2013 and have steadily increased ahead of inflation over recent years.
The new survey also found that Londoners want transport to be the top priority for their Mayor, with 57% saying it should be among the Mayor and city government's top three greatest priorities. The only other area of administration that came close was housing, selected by 53% of London residents. other popular choices were policing (36%), economic redevelopment and regeneration (35%), public health (21%) and fire services and emergency planning (20%).
Limited use
When asked how often they would use the tube after 12:30 am, only one third (32%) of Londoners say they would do so more than 'once a month', and another third (33%) say they would 'never' do so.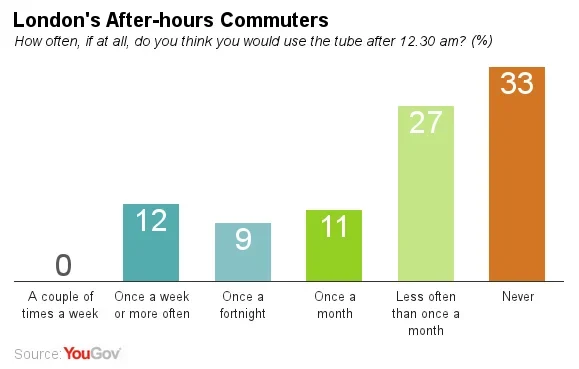 The move has been praised as a boon for London's 'night-time economy', in particular it's nightlife. And in fact young people are much more likely to say they would use the new all-night service – 23% of 18-24 year olds expect they would use it 'every week' and another 22% would use it every two weeks; 29% of 25-39 year old expect to use it every fortnight or more often, too.
A YouGov poll in October found that around 94% of Londoners use the Underground at least sometimes, including 68% who use it 'often'.
In addition to the new weekend services, the transport authority has also announced up to 750 job cuts, with every ticket office closing as part of an effort to reduce the budget by about £78m for 2013 and 2014, leading transport union leaders to accuse Mayor Boris Johnson of using the 'Night Tube' announcement to divert attention away from the planned cuts.
Image: Getty
See the full London poll results