YouGov CEO Stephan Shakespeare dicussess the battle between EasyJet and Ryanair.
EasyJet was one of the big stories in business yesterday, with the budget airline reporting higher profits than arch rival Ryanair for the first time in its history. It saw a 51 per cent rise in yearly pre-tax profits to £478m, and its shares also rose significantly, boosted by the company's plans to hand out £175m to shareholders through a special dividend payment.
Chief executive Carolyn McCall, whose gentle public persona is the polar opposite of caustic Ryanair boss Michael O'Leary, attributed the success to introducing allocated seating last autumn.
According to YouGov BrandIndex, the introduction of assigned seating has definitely made a difference. Since it was first announced, the airline's overall Index score has increased by six points. Twice as many people now say they see EasyJet as being good value, and its recommendation rating has gone from minus 0.7 to plus 4.8, indicating it has really upped its game in terms of word of mouth marketing.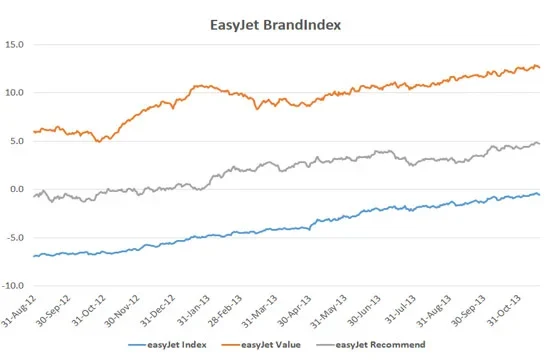 But what of Ryanair? In recent months Ryanair has launched a new customer service strategy, and the oft-reviled company's efforts do seem to be improving its image in the eyes of consumers.
Ryanair's Index score is up three points since the end of September, but at minus 38.3 it is leagues behind EasyJet, with a score of minus 0.5.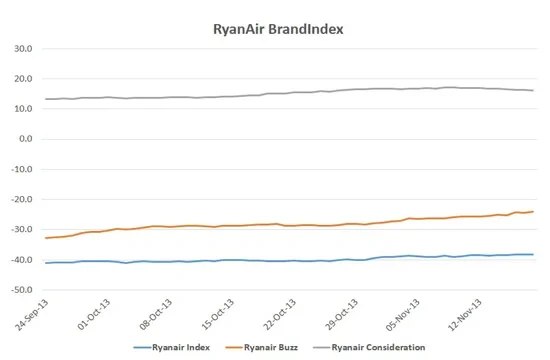 Ryanair's Buzz score, which measures whether consumers are hearing something positive or negative about the brand, has increased by a whopping 11 points in less than two months. However, whether it will eventually be able to translate that good buzz into genuinely warm feelings among consumers remains to be seen.
The bottom line is that the budget airline market in the UK is more competitive than ever before, and that is good news for consumers.
This article orginally appeared in CityAm