This month's Brand Spotlight looks at how consumers have viewed the RSPB over the course of the last six months, looking at how the charity's marketing has influenced its public perception.
Although the RSPB was founded for the benefit of the avian population, more recently it has widened its focus towards protecting wildlife and nature more broadly. As part of that repositioning, this summer the organisation launched its 'Giving nature a home' campaign that seeks to recast it as a charity that encourages the protection of all species and inspires the public to protect and nurture the nature on their doorstep.
The campaign started in June the launch of the advert that aired throughout the summer. The ad was supported by PR work, with news coverage from the likes of the Daily Telegraph and Guardian, in addition to a piece on the BBC website. The organisation also undertook a programme of experiential activities, including inviting children to 'sleep in nature's home.'
By looking at the Ad Awareness score on YouGov's CharityIndex – which measures whether people have seen a charity's advert in the past two weeks – we see the public took notice of the RSPB's spot. Using a three week rolling average, the score grew from +3.3 on 21 June to +7.2 on 9 August. It then fell before rising once more when the advert aired again in the autumn.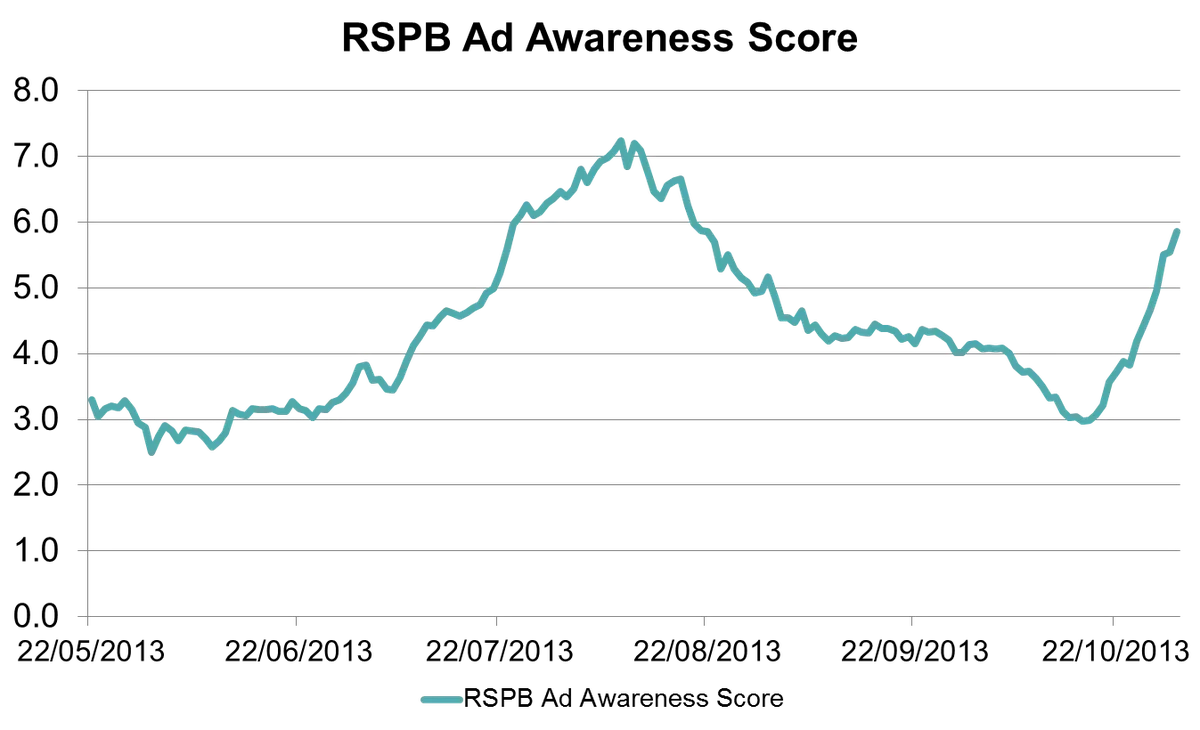 RSPB Ad Awareness Score, 22 May – 31 October 2013
It will take a while to see how well the RSPB meets the long-term strategic objectives of its rebrand. After all, it takes time to turn people from supporters into advocates and also to re-cast an organisation from being one focused on protecting birds to nurturing all of the UK's species and habitats. However, by creating an advert that makes an impact and – crucially from an advocacy point of view – spurs talkability, the RSPB has moved to the front of people's minds, allowing it to then recast itself among a more engaged audience.
The charity's next challenge will be to build on these gains and making sure that changing attitudes among the public leads to changing their behaviour, too.
This is an abridged version of a longer piece written exclusively for Third Sector. The full article can be read on the Third Sector website.
More information about YouGov's CharityIndex can be found here.
Image courtesy of Getty