YouGov CEO, Stephan Shakespeare, considers the success of Coca-Cola's 'Share a Coke' campaign
COCA-COLA'S Share a Coke campaign, for which the company replaced its label with 150 of Britain's most popular first names, was the marketing champion of the summer.
The company is now looking to build on that success for the holidays with a new campaign that encourages consumers to "Share a Coke with Santa".
At YouGov, we conducted a major study looking at all elements of the campaign – and I think extending it out to Christmas is a sure-fire hit.
To understand how Share a Coke influenced consumers we used "connected data", drawing together those who saw the TV adverts with those exposed to the campaign on Twitter and Facebook. By monitoring precise media consumption patterns we know who was watching the exact channels and shows where the TV adverts aired, and because some of our panellists have given us access to their Twitter and Facebook feeds we know who was exposed to #shareacoke on social media.
The results across every medium show the campaign to be wildly successful. Those who saw the TV adverts are seven per cent more likely to consider buying Coke than the general population. Consumers who saw the campaign on Twitter are eight per cent more likely to recommend Coke to a friend. Those exposed to the campaign on Facebook are 18 per cent more likely to have a good impression of the brand than other Facebook users.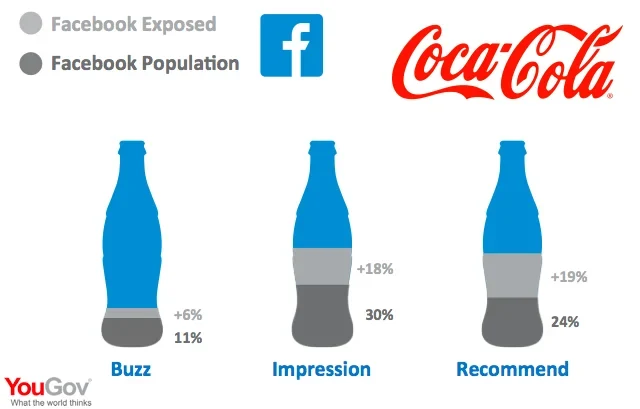 Through our online focus groups we found that the main reason Share a Coke worked so well is because it reached out to consumers as individuals, but at the same time didn't exclude anyone. Some participants expressed disappointment at not finding their names on Coke bottles, but they could still get excited about the campaign by finding the names of their friends and family.
It also encouraged people to generate content for Coca-Cola by posting pictures with the personalised Coke bottles and sharing it with their networks on Facebook and Twitter.
The bottom line for other brands hoping to emulate Share a Coke's success is that in the age of social a campaign only works if it can be shared, enjoyed and interpreted by consumers in their own way.
This article originally appeared in CityAM
Access the full study on our website