The public have mixed feelings about whether the NHS will cope this winter – but while there is strong demand for a potential solution – weekend opening hours – there is opposition to the proposed means: consolidation of smaller A&Es
At Prime Minister's Questions this week, David Cameron was threatened with the prospect of a crisis in hospitals this winter. Ed Miliband accused him of missing 15 consecutive weeks of A&E targets before the onset of winter, after NHS figures showed a 43% increase in the numbers waiting more than four hours since 2011.
The criticism came, however, only days before NHS medical director Bruce Keogh reveals his proposals for how to introduce seven-day working across the NHS, to combat the so-called 'crisis'. He is expected to say the services can only be extended if some smaller A&Es are closed, and merged into bigger institutions where a greater concentration of talent and more resources can cope with the increasing demand.
There are mixed views on whether the NHS will cope this winter, with 50% feeling confident A&E services will be able to meet people's needs and 38% not feeling confident.
Older Britons, perhaps the most vulnerable group, are least hopeful. 47% of over 60s are not confident the NHS will cope compared to 27% of 25-39 year olds.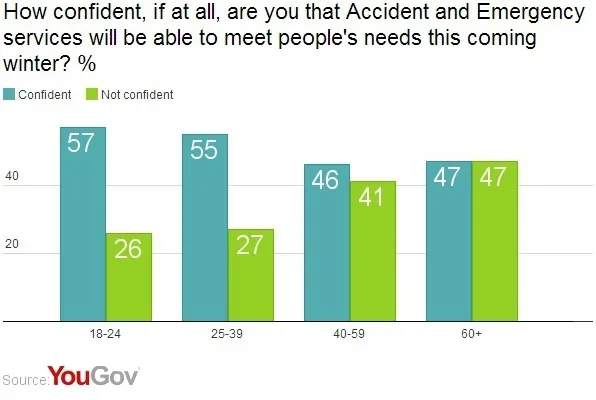 But while there is strong demand for the potential solution – seven-day care – there exists opposition to the proposed means: hospital centralisation.
65% expect hospitals to maintain the same standards throughout the whole week, and standards at weekends to be the same as during the week. Only 16% believe there will inevitably be worse provision at weekends.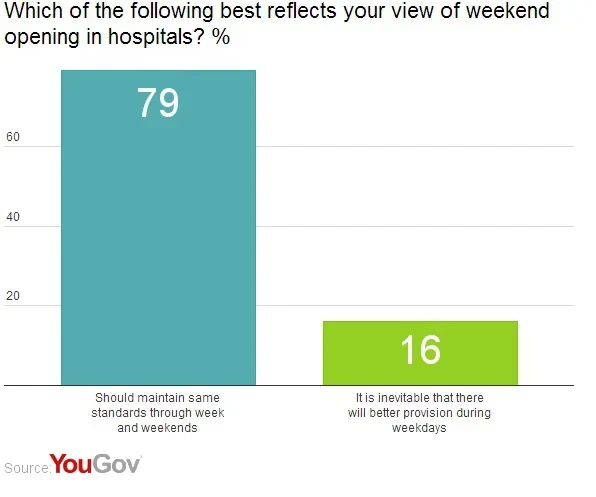 However, only 26% would prefer there to be fewer hospitals offering Accident and Emergency services, but with more resources, staff and facilities at those that do. 46%, on the other hand, say the current system should be maintained: retaining Accident and Emergency services at as many hospitals as possible, but with resources, staff and facilities spread more thinly.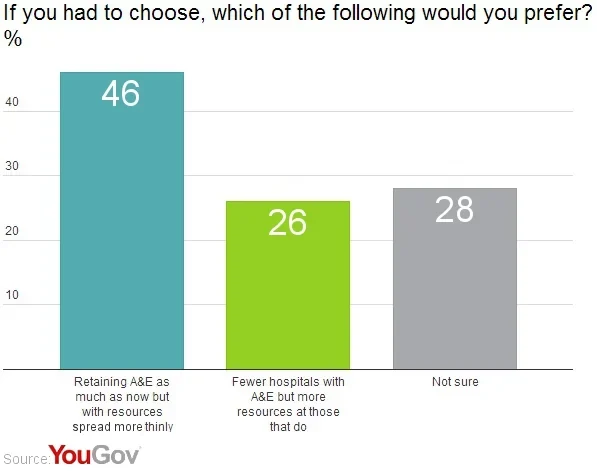 The calls for weekend care have intensified since research by the British Medical Association showed that death rates are higher among patients who are admitted to hospitals at weekends. My Keogh claims 4,400 lives a year could be saved if hospitals are 'reorganised' to create fewer larger hospitals with a sufficient number of specialists in each, however the plans have faced criticism over the numerous hospital closures that would result.
Image: Getty