Britain is evenly divided between those who believe the British political system is mostly sound and those who think it's in need of serious change, but only 12% think it's broken beyond repair
Time for a revolution? Comedian Russell Brand thinks so, and he stirred controversy last week when he used an interview with Newsnight's Jeremy Paxman and an article in the New Statesman to make his case. Brand calls the current political system a 'bureaucratic means' for furthering the interests of 'economic elites' and recommends eschewing the ballot box in favour of revolt.
Many commentators have been dismissive, but YouGov research suggests many people could be sympathetic to Brand's calls for a serious reconsideration of British politics. In fact, people in Britain evenly divided between those who think the British political system is mostly sound and those who believe it needs significant changes.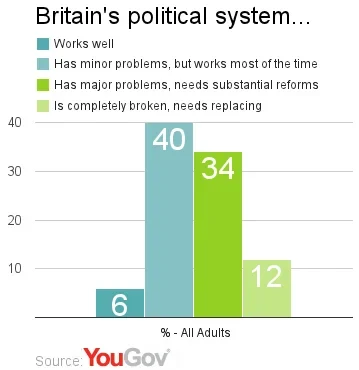 Asked to leave aside views of the current government, 46% say Britain's political system either 'works well, and normally produces governments and laws that can address the country's problems' (6%) or has only 'minor problems' and works most of the time (40%), while another 46% say the problems are much more serious, including a third (34%) who call for 'substantial reforms' and 12% who endorse the most radical claim – that the system is so far gone it needs to be scrapped altogether and replaced with a brand new system.
Politics beats demographics
And while the question is ideologically neutral, the greatest divisions do arise along political lines: those intending to vote Conservative or Lib Dem are most likely to say the political system needs only 'minor reforms', while those intending to vote for one of the parties not currently in power – Labour and UKIP – are more likely to favour fundamental reforms.
About a quarter (24%) of UKIP supporters would like 'a completely different political system', the most of any political group (only 1% of Conservative voters feel the same).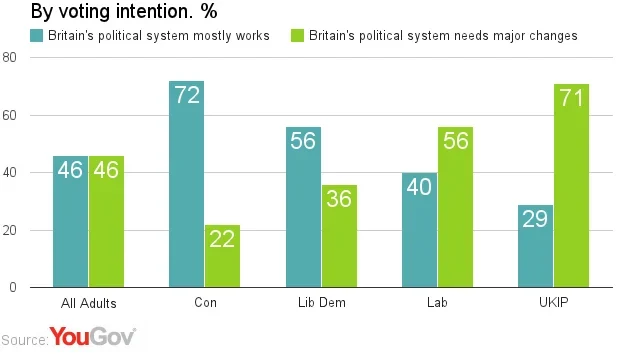 There is also a divide between voters in the ABC1 social and economic group – that is, where the head of household has a white collar job – and the C2DE – which includes manual workers and people not working. At 16%, C2DE voters are twice as likely to call the system 'completely broken' than ABC1 voters; however, the split between these two groups is not as wide as the split between some political groups.
Interestingly, belief in the need for radical change is more common in the old than in the young. And, regionally, it is least common in the capital and most common in Scotland, where nearly two in five (19%) believe in the need to replace the system altogether.
On Guy Fawkes' Night, Brand joined a group led by computer hacker collective Anonymous to march on Buckingham Palace in protest of austerity cuts. From the protest he tweeted: "Whatever party they claim to represent in the day, at night they show their true colours and all go to the same party."
Image: Getty