Two months to the day before Christmas, YouGov reveals that only a shrinking proportion of Brits make, or even like, Christmas cake
According to BBC Food, a Christmas cake must be made at least two to three months before Christmas - in other words today, the 25th October.
According to new YouGov research, a tiny 13% of British adults are planning on making a Christmas cake this year.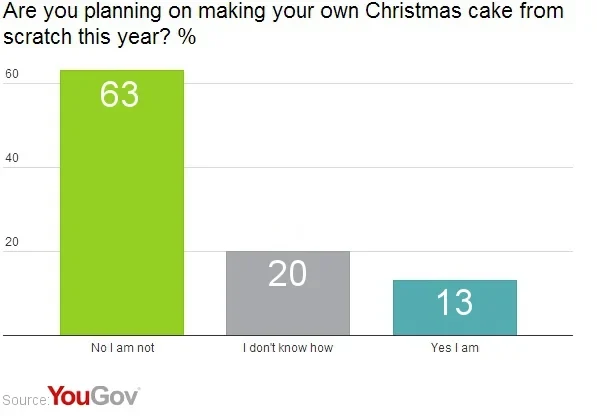 63%, on the other hand, have no plans. 20% say the question is not even applicable, as they do not know how to make a Christmas cake anyway.
Despite claims that the hugely successful Great British Bake Off has "changed Britain" into a "nation of bakers", with baking trade fairs that are "very young, very trendy", it seems Christmas cake making, at least, is still the preserve of the over 60s. With each successive generation, the likelihood of baking a cake shrinks. 20% of over 60s are planning on making a Christmas cake this year, compared to only 6% of 18-24 year olds.
Strikingly, younger Britons seem to be going off the taste of most traditional Christmas treats. 79% of the over 60s like the taste of Christmas cake, while only 39% of 18-34s feel the same; 81% of the older generation like Christmas pudding, compared to just 34% of youngsters; and the most loved Christmas desert, mince pies, (liked by 71% in total compared to 60% for the other two) are enjoyed by 87% of over 60s, compared to 58% of 18-24s.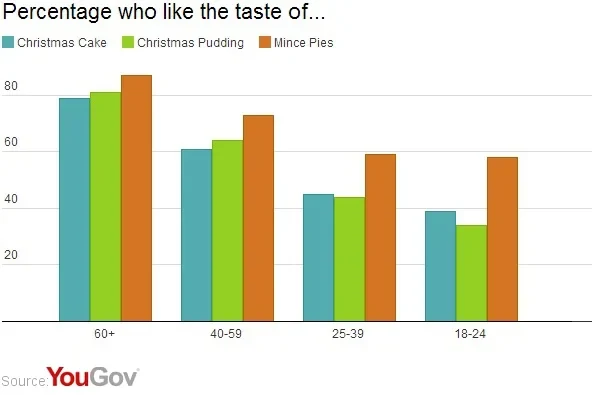 The modern day Christmas cake is characteristic for its use of seasonal dried fruit and spices, which were originally added to represent the exotic Eastern spices brought by the Wise Men in the story of the Nativity. It is traditional to hide a thruppenny bit or sixpence in a Christmas cake, though popular television chef Hugh Fearnley-Whittingstall recommends using a pound coin.