Most Londoners think the London living wage should be legally required for all employers in the capital – and that the amount needed to reasonably support life in London is even higher
Since 2001 the "London Living Wage" campaign has called for employers to pay a living wage, calculated according to the basic cost of living, rather than the national minimum wage, which focuses on what the labour market can bear without a significant effect on employment.
The London living wage is now set at £8.55 per hour, but it is an informal benchmark – not a legally enforceable minimum level of pay.
The majority of Londoners (64%) say the London living wage should be legally required for all employers in the capital.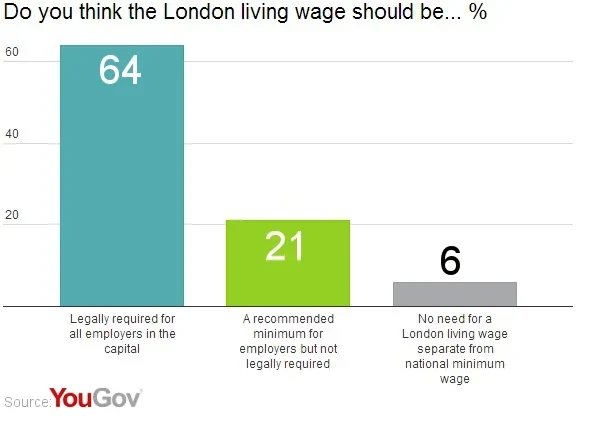 Only 21% say things should stay as they are: the London living wage should be a recommended minimum for employers but without being legally required. 6% say there is no need for it at all and 8% don't know.
Majorities of every demographic group support a legally required living wage for Londoners, including supporters of the three main parties.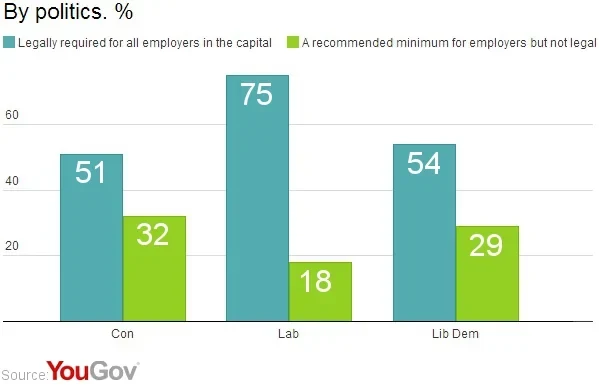 An annual London living wage salary based on a 40 hour week equates to £17,784. 46% of Londoners think the minimum annual salary to enable someone to reasonably support themselves living in London is between £20,000 and £30,000, however, and 20% say it is above that. 30% say it is between £10,000 and £20,000 and 4% say it is below that.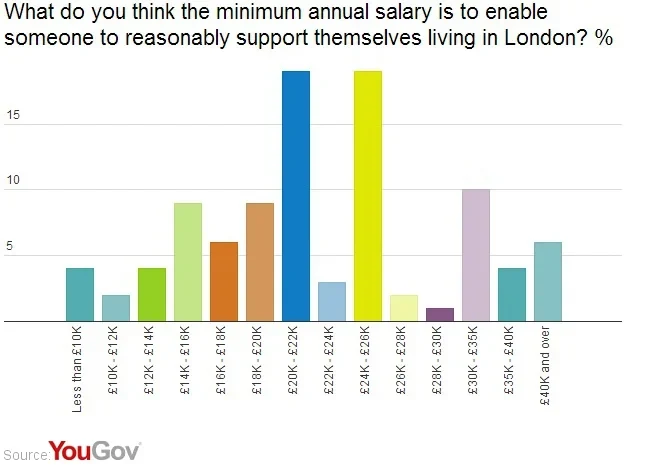 The mean comes to £25,334, or £12.17 an hour based on a 40 hour week.
Although beginning in London, the Living Wage Foundation and Citizens UK have taken the idea to a national level, currently valuing it at £7.45 for the rest of the UK compared to the £6.31 minimum wage required legally. The Institute for Fiscal Studies estimate that if everyone was paid the living wage, the government would save £6 billion per year from increased tax revenue and decreased tax credits.