In voters' minds Labour are becoming the party for living standards and the Conservatives are becoming the party of economic competence
As increasing economic growth continues to support the Conservatives' economic arguments, but rising prices and shrinking wages bring attention to Labour's cost of living campaign, politicians on both sides are claiming their opponents are missing the point. Both the bigger economic picture and individual costs of living are important issues in voter's minds, but each of the two main parties has work to do to convince they can deliver on both.
On improving living standards, British voters think a Labour government would be better than a Conservative one by 34%-25%.
Similarly, on providing more jobs and keeping prices down Labour are deemed better than the Conservatives by 33%-25% and 28%-22%, respectively.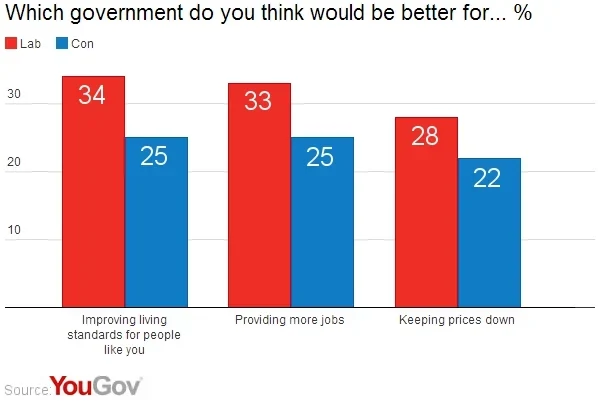 But these are small margins compared to how dominant the Conservatives are on their core issue - the wider economy.
By more than two to one (41%-19%), the Conservatives are seen as being better at tackling the government's deficit. And by 15 points (38%-23%) the Conservatives are viewed as being better suited to managing the economy. Helping people onto the housing ladder falls somewhere between the two issues of living standards and the economy, but the Conservatives outcompete Labour by 35%-24% - higher than any of Labour's winning margins.