Economic tracking data from YouGov finds significant concern over energy prices amongst UK consumers
Energy prices seen as biggest threat to economy by UK consumers

83% feel energy suppliers maximise profits at expense of customers

91% expect energy prices to rise over next 12 months

56% agree "energy companies treat people with contempt"

In a speech yesterday to the Labour conference, Ed Miliband pledged to freeze gas and electricity bills for 20 months if he wins the 2015 election. In a letter this morning to the energy companies, Mr Miliband said "We can work together on the basis of this price freeze to make the market work in the future. Or you can reinforce in the public mind that you are part of the problem not the solution."
Energy companies are indeed seen as a problem to UK consumers, according to YouGov economic tracking data.
Energy prices are seen as the biggest threat to the UK economy from a list of factors by 22% of consumers; that compares to 14% who choose unemployment, 10% who say the level of government benefits and another 10% who pick inflation.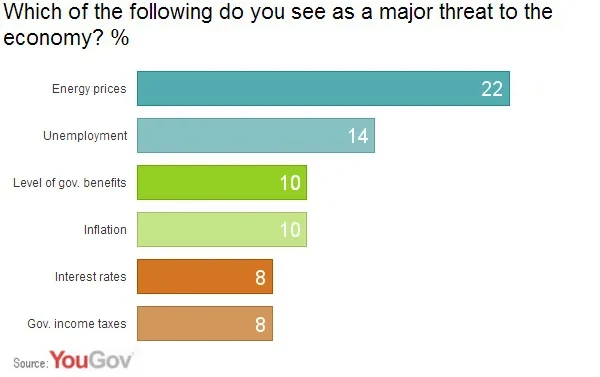 In addition, a new YouGov report, 'Utilities – Tariffs and Loyalty' that will be released next week, finds that 83% of UK consumers agree that "energy suppliers maximise profits at the expense of customers" while only 2% disagree. 12% neither agree nor disagree.
56% agree that "energy companies treat people with contempt" while only 7% disagree. 32% neither agree nor disagree.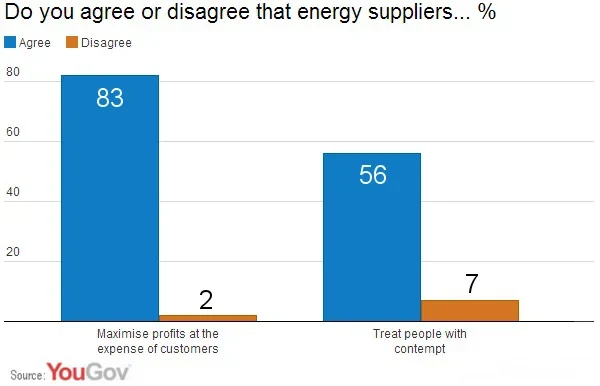 91% also expect energy prices to rise over the next 12 months – 24% a little, 40% somewhat and 27% a lot.
Centrica, who operate as British Gas in the UK, dropped £950 million in value this morning as shares fell almost 5% following Ed Miliband's pledge. City of London stockbrokers warn the policy will discourage companies from investing in Britain, leading to household bill increases and even "blackouts." Shadow business secretary Chuka Umunna says the claims are "nonsense."
Image: Getty