People in America and Britain tend to think Vladimir Putin has been the most effective world leader during the chemical weapons crisis in Syria
As the first deadline has passed for an agreement brokered by the United States and Russia aimed at locating and destroying Syria's chemical weapons stockpile, new cross-country YouGov polling reveals how people on both sides of the Atlantic perceive the deal and the national leaders most closely involved in it.
The survey shows that Russian president Vladimir Putin is widely viewed to have been the most effective leader by both Americans and the British. The net rating of his effectiveness (the percentage who say he was effective minus ineffective) Americans give Putin a score of +32 and the British gave him a score of +21.
In comparison, American president Barack Obama receives a score of -4 from the American public and a score of +6 from the British, putting him in second place among people in Britain and third place among people in the US – French President Francois Hollande narrowly tops Obama among Americans with a score of -3, although a substantial number (29%) had no opinion on Hollande's effectiveness.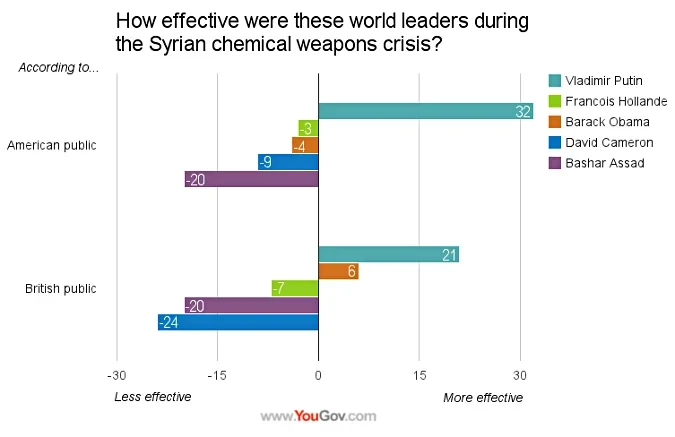 In both countries people did tend to be particularly critical of their own leader: 10 points divide the British (+6) and American (-4) ratings of Obama's leadership, and there is a 15 point gap in opinion on Cameron (-24 for the British and -9 for the Americans). Putin also received a much higher rating from Americans than the British.


Support for deal comes with doubts
British and American public opinion is also strikingly similar when it comes to general feelings about the deal. Both are widely approving of the deal, but equally pessimistic about its chances for success.
People in Britain approve of the deal by 73%-7% who disapprove, while Americans approve of it by 58%-15%.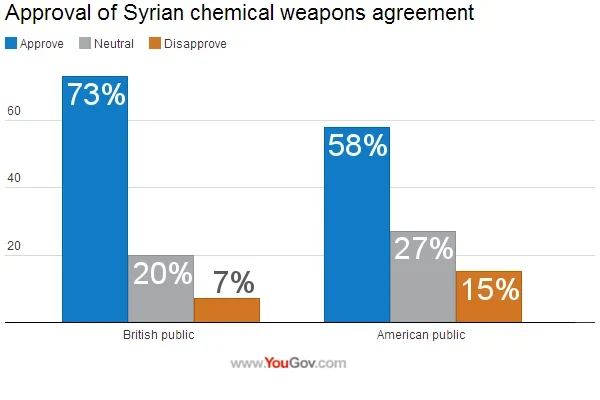 However, only 22% of Britons and 23% of Americans think it is likely the agreement will lead to the removal of Syria's chemical weapons, while 57% and 51%, respectively, think success is unlikely.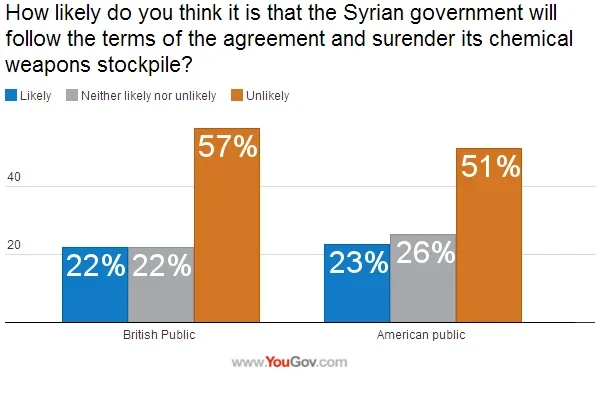 The terms of the agreemeent state that Syria must produce a full inventory of its chemical weapons by September 21st, allow international inspectors to come to Syria by November and to give up all of its chemical weapons by mid-2014 in order to prevent U.S. military strikes.
The agreement itself originated in a seemingly offhand comment by US Secretary of State John Kerry that US missile strikes in Syria could be avoided if Bashar Assad's government surrendered their chemical weapons within a week. Russia's top diplomat quickly jumped upon the comment and soon secured the support of the Syrian government for just such a deal.
Image: Getty