Two days before Bundestag elections Angela Merkel's party is in the lead, but a coalition with the left-leaning Social Democrats looks likely
Ms Merkel's conservative CDU/CSU holds on to the 38% it had last week, while the SPD remains on 28%, according to the latest INSA/YouGov poll conducted in collaboration with Bild newspaper.
Germany's smaller parties have shown more movement: support for the conservative euro-currency-sceptic party Alternative for Germany (AfD) rose from 3% to 5%, which could mean the party makes it into the Bundestag in its first year of existence. AfD was founded in February 2013 and is anti-euro but not anti-EU.
In Germany's electoral system a party must win at least 5% of the vote or win three consitituencies to secure repesentation in the Bundestag.
Meanwhile Germany's Green party has slipped 3 points to only 8%, after losing 2 points in the previous week. The Pirates, a social-liberal party that focuses on government transparency and internet freedom, have also fallen, from 3% to 2%. However, support for far-left party Linke is up one point to 9%, putting it in third place behind CDU/CDU and the SPD. Prospects have also improved for the FDP - the classically liberal party that serves in the current coalition goverment with CDU/CSU - which climbed from 4% last week to 6%, tipping it over the 5% threshold.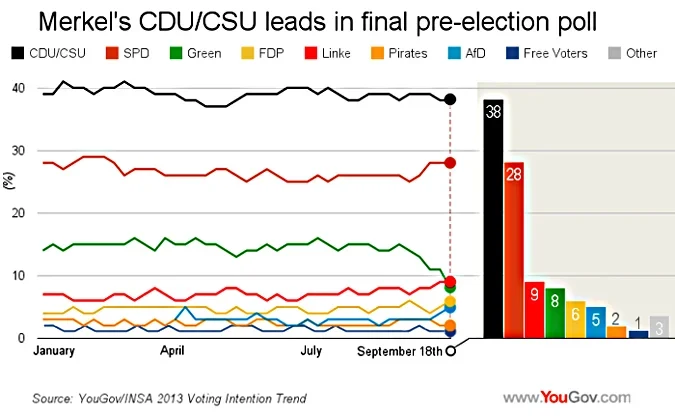 Still, even if the FDP do gain representation in the Bundestag, hopes for a continuation of the current black-yellow (CDU/CSU with FDP) coalition government appear to be receding. Using the latest figures only two covenants would be capable of governing with a majority: the Grand Coalition and the rather improbable 'Jamaica coalition' of CDU, FDP and the Greens.
Image: Getty