YouGov CEO, Stephan Shakespeare, analyses the Big Four banks in light of new rules making it easier to switch current accounts.
This week, new rules took effect that will allow the UK's 46 million current account holders to switch banks in seven days. According to 2011 research from the Banking Commission, the average customer stayed with the same bank for 26 years, but with switching now easier than ever before, we could be entering a new era of competition in the high street banking sector.
In recent years new and smaller players have entered the current account market, but for today I will focus on the so-called Big Four high street banks – Lloyds Banking Group, HSBC, Royal Bank of Scotland and Barclays – which are believed to own around three quarters of the UK current accounts market.
Looking at the overall Index scores (a composite of six key measures of brand health) we see that only HSBC has its head above the zero mark (0.8), while Lloyds Banking Group (recently split into Lloyds and TSB) sits at -3, Barclays is at -6.1 and RBS is way behind at -12.8. None of the Big Four occupy the top five spots for consumer perception out of 28 banks. Nationwide holds first place, followed by National Savings & Investments, Post Office, M&S Money and Premium Bonds.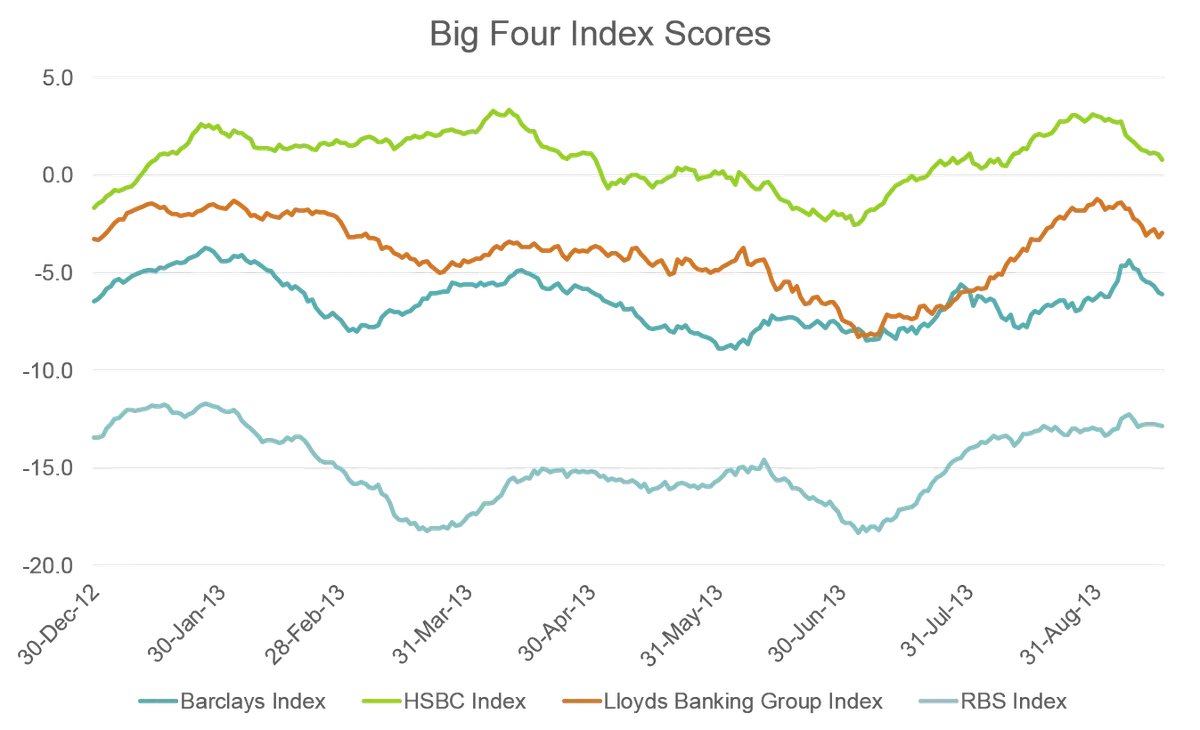 The bank formerly known as Lloyds TSB, which earlier this month was split into two entities, is particularly interesting.
Exclusive research from a forthcoming YouGov report on banking reputation finds that 17% of account holders who have been moved to TSB say they are thinking of moving to another bank – significantly higher than the average 12% who are thinking of leaving other banks.
It is still too early to know to what extent the seven-day switch service will alter the high street banking sector, and how TSB will fare as a standalone brand.
But with weak consumer perception scores for the Big Four and uncertain account holders at TSB, it would not be unreasonable for bosses at all these banks to be feeling a little nervous.