91% of football fans in England think racism exists in football
–

the second highest in Europe

–

but they are amongst least likely to say it is a serious problem.

YouGov interviewed fans and the general public in England, Scotland, France, Germany, Spain, Italy and the Netherlands about their attitudes to racism and homophobia in football.

Reports from fans across Europe consistently show that racism exists in football. Italian football tops the league, with 92% of fans saying it exists in Italian football. England is a close second with 91%, with Spanish fans reporting the lowest incidence of racism, with 73% feeling that it exists.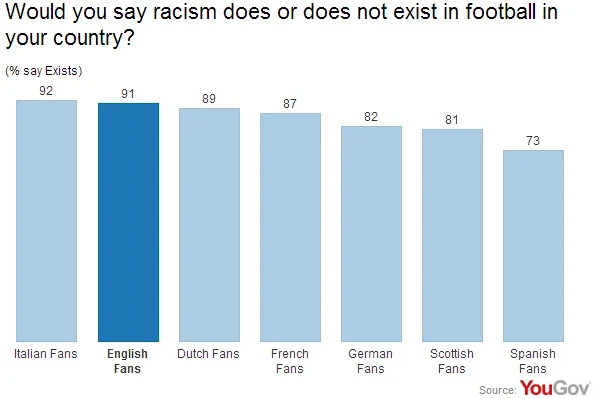 Of those who say that racism exists, English fans are amongst the least likely to view the problem as serious (43%). Scottish fans are the least likely to see racism as a serious problem (38%), with Italian fans the most likely (71%).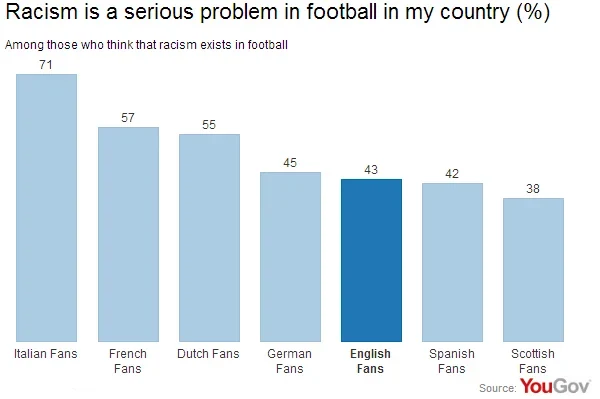 The issue has recently come to prominence in Italian football. In January former AC Milan forward Kevin-Prince Boateng became the first player to walk off the pitch in response to racist chanting, with the game later abandoned. Since then a referee has stopped a match between AC Milan and Roma in response to the problem, and Lazio were forced to close a stand of their stadium for the opening weekend of the Italian season following persistent problems.
English fans give clubs and players the most credit for combating racism, with 40% feeling that they are doing enough. Despite this, every football authority put to English fans was judged to not be doing enough to combat racism. Just 17% of English fans feel that international authorities such as FIFA and UEFA are doing enough.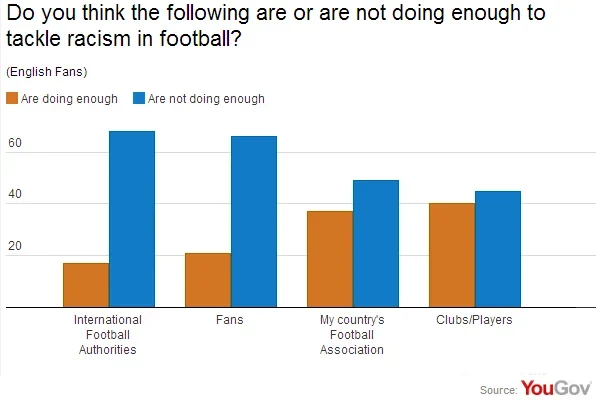 Across Europe, football fans feel that players, clubs, national and international governing bodies and fans themselves are not doing enough to combat the problem. On average across the seven countries surveyed, only 22% of fans feel that the international bodies such as UEFA and FIFA are doing enough to tackle racism.
FIFA President Sepp Blatter caused controversy in 2011 by suggesting race-related incidents could be settled with a post-match handshake; meanwhile Head of UEFA Michel Platini stated any player walking off the pitch at Euro 2012 because of racist chanting would be booked.