YouGov polling on Labour's relationship with unions and zero-hour contracts suggests some ideas likely to be addressed in Ed Miliband's TUC speech could resonate with voters
Today the leader of the Labour Party, Ed Miliband, addresses the unions. In a crucial speech to the Trade Union Congress, the media suggest he will confirm plans to stop the automatic levy of party membership fees from union members, pledge to 'crackdown' on zero-hours contracts and defend Labour's economic message against indications of victory for George Osborne.
YouGov brings together some of the most recent and relevant polling on those very issues, and finds that – at least regarding unions and zero hour contracts Miliband's ideas could ring true with voters.
The unions
Following claims that a leadership contest in Falkirk was rigged by Unite, Ed Miliband wants union members to have to choose to pay fees which will make them party members, rather than to pay money to Labour automatically.
56% of British adults approve, in a YouGov poll for Labour Uncut, calling it 'a sensible way to make Labour more democratic.' 9% oppose, saying it will 'deprive the unions of influence they ought to continue to have.' Another 13% oppose, but say 'Miliband should go further and scrap all link with the unions.' 21% don't know.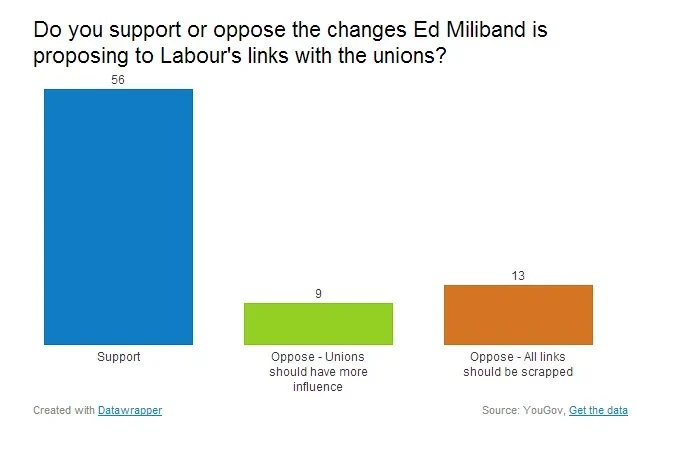 Before the issue was fully established in the media, on 4-5 July 29% said Labour had been too close to the trade unions and 13% too distant. After Miliband first announced changes to Labour-union relations, on 11-12 July 37% said too close and 12% too distant. Now the dust has settled, a 5-6 September poll for the Sunday Times reveals 31% now say Labour has been too close to unions and 18% say too distant.
Zero-hours contracts
Currently many employees are on zero-hours contracts, meaning they have no fixed hours and can be called on to work whenever their employer wants them too. Some of them are also required to work exclusively for that one employer. The BBC report that Ed Miliband plans to outlaw the second practice.
On August 8-9 in a poll for the Sunday Times 67% said zero-hour contracts are a bad thing - 'they don't provide any security and allow employers to exploit their workers.' 20% said they can be a good thing – 'they allow flexible working arrangements for people in jobs where the amount of work could vary from week to week and there may be periods with no work to do.'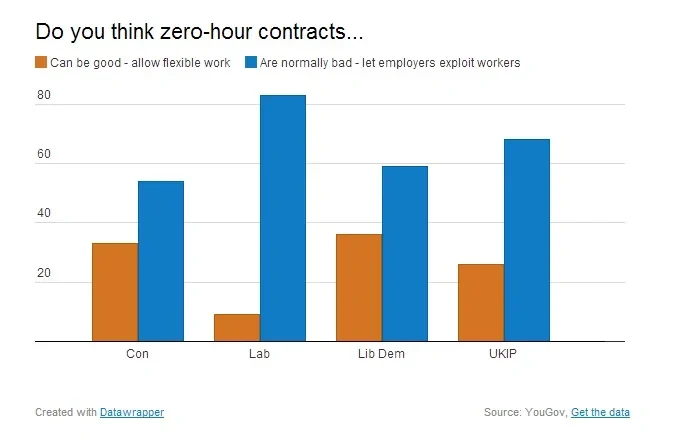 Labour voters had the most negative view, saying they are bad by 83%-9%. UKIP were opposed by 68%-26%; Liberal Democrats by 59%-36%; and Conservatives by 54%-33%.
Ed Miliband's focus on zero-hour contracts is part of the Labour Party's 'cost of living crisis' campaign. Although the economy as a whole is recovering, as the OECD's increased growth forecast from 0.8% to 1.5% shows, living standards for most individuals remain poor, Labour claim. 'Living standards' may be the new buzzword in UK politics. George Osborne used the phrase 12 times in a speech yesterday, acknowledging that although austerity could have won the macro-economic argument individuals must feel they are making progress too.
However, in the latest YouGov polling for the Sunday Times 67% say Ed Miliband is doing badly as leader of the Labour party and 21% say he is doing well, meaning his net rating is -46 -- the second lowest it has been this year. In comparison, 54% say David Cameron is doing badly while 39% say he is doing well, meaning his net rating is -15 -- the second best it has been this year.
Image: Getty
See the Sunday Times results (unions)
See the Sunday Times results (zero-hours)